Ah, coffee. What would I do without you?
I'm guessing 15 to life.
There are a few options for making coffee while camping, and for us none of them involve plugging in our reliable drip coffee maker. We've experimented a bit over the years – here are our results.
Instant: Not necessarily the cheapest, most environmentally friendly, or even the best tasting, Starbucks Via is still not a bad option.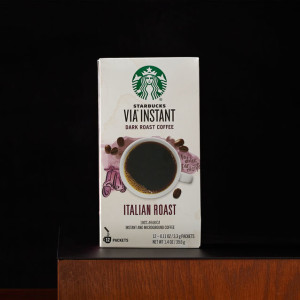 I stay away from the "fancy" flavors because I find they have an odd, almost chemical aftertaste. Of the regular flavors I've tried, I like the Italian Roast best. Two packets in my stainless steel mug, then add hot water. Doesn't get any easier. But the cost does add up after a while.
Percolator: The best thing I ever read about how to make percolator coffee? At HowToBrewCoffee.com, the author says what you need is  "A percolator and a heat source, coffee, water, and a complete lack of respect for the coffee bean."  (Click on the link for a great description of how a percolator works.)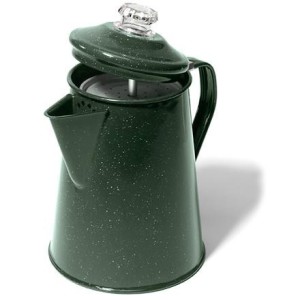 Now, I don't think percolator coffee is that bad, but… Well, boiled coffee generally doesn't taste all that great, and that's what a percolator does. It boils the coffee.
Still, percolators themselves are fairly cheap (less than $30), and you don't need to buy paper filters.
You do have to watch the percolator closely, though. If you don't let it boil for long enough, you get weak coffee-colored water. But if you let it go too long your coffee will be jet black, super-strong, and incredibly bitter.
French Press: So far, this method has been the winner. It's not perfect, but I find it makes the best tasting coffee.  
Of course, you can't use regular grounds in a French Press, because like the percolator, the French Press has no basket. Beans must be a coarse grind and those can be hard to get sometimes.
The REI French Press pictured is pretty expensive ($54!), but it's also insulated, so it keeps your coffee warm while it steeps.
On our Moab trip we used our French Press every morning. It was great but I found we went through our grounds pretty fast. In the end (because instant was not an option) we experimented with less grounds and longer steep times.
Pour Over: I'll admit, this is one method I've never tried. But what I'm reading is that this is the simplest method, with the easiest cleanup. I looked up the drip cones used in this method and they're pretty cheap.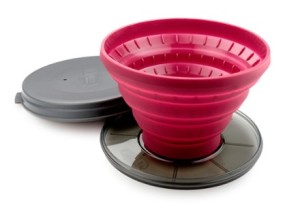 This one is about $13. You do need to buy a filter, but this means two things: you can buy regular coffee grounds, and when you're done you can toss the filter, so cleanup is easier.
The one issue I might have is that the drip cone method is generally only good for 2-3 cups of coffee. The more you brew, the weaker each cup gets. I'm generally good with just one cup, but Michael has been known to drink an entire pot all by himself. And with Vera (the World's Most Temperamental Stove) preferring not to be fired up multiple times in quick succession… well, the French Press might still be our best option.
I'll keep you posted!