Happy Halloween, everyone!
Today's recap: Capitol Reef National Park. If you've never been, you're missing out.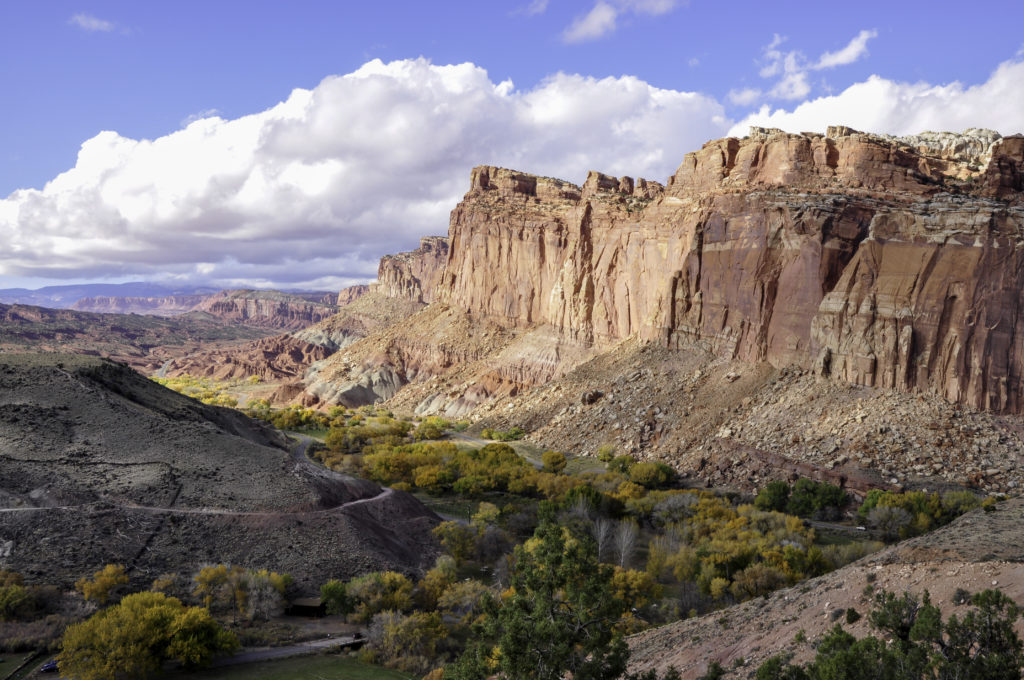 Sunday October 23rd we ended up camping outside of Loa, Utah,empty-handed as it were, since the only grocery store in town was closed. Actually, everything in that town appeared to be closed. Was it a Mormon thing?
At least our little campsite sat in a field of sage. I love that smell.
Anyway, we hit the Loa grocery store around the crack of noon on Monday the 24th. It's hard getting up early these days – sunrise is something like 7:45, so we're usually not out of the tent and making coffee until after 8 (sometimes 8:30). I know that sounds lazy, and it probably is, but I don't need coffee so bad as to stand out in the cold and dark just to make it. I can wait for the sun.
The Loa grocery had most of the things we wanted, and the prices weren't too bad. The town itself had a 4G connection so while Michael looked for dog food at the local Ace Hardware, I sat in the truck and put up a blog post. Go team!
Onward then, to Capitol Reef, which feels like a tiny National Park. They don't even have an entrance station. We got the beta on good hikes and things to see from their visitor's center, and decided to check out the pictographs and hike to Bickman Natural Bridge that day, then come back and hike Cohab Canyon the next day. Cohab was only about 3 miles round trip, but the guy at the visitor's center mentioned that there were a couple of adjacent slot canyons that could be explored from this trail. And you know how hooked I am on slot canyons right now…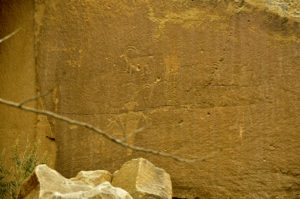 The pictographs were cool, and the natural bridge was a fun little hike. With daylight fading, we found a place to camp in an established, dispersed site just outside the park boundary. There was only one other vehicle there (a Sportsmobile, of course – will I ever stop being jealous of those?) so we had our choice of fire rings to set up next to.
Too bad we never got to use that nice fire ring. The weather forecast we saw did say rain (as in, a 100% chance of rain) but the clouds didn't really get ominous until close to sunset. We watched that squall line approach and just couldn't get everything put away in time. This was a classic Utah storm. Gusty winds that made it rain sideways forced us to retreat into the tent at 7pm. I am happy to report that our rooftop tent came through the ordeal just fine. That thing sure is noisy in high winds, though. Remember how we couldn't get everything put away in time? That meant our dinner that night consisted of Lara bars, a bag of corn chips, and a handful of lunchmeat. Painful to admit, but what can you do? Even chefs eat ghetto sometimes.
Tuesday morning was bright and sunny though, and we took the morning to charge up all the solar items.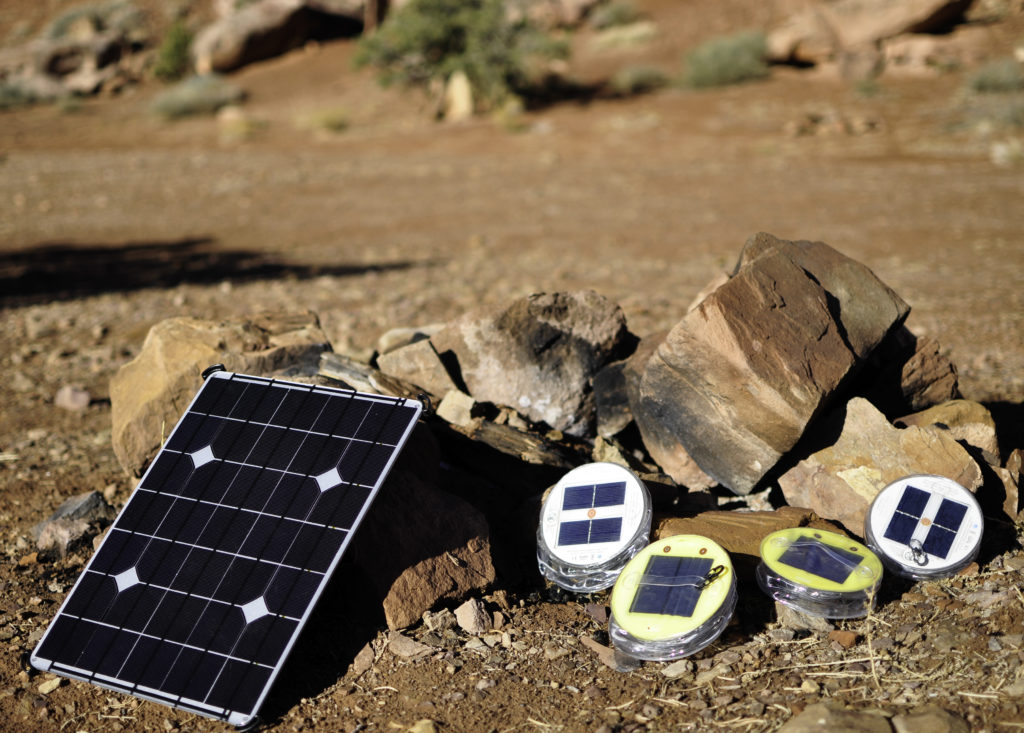 Plus, we pulled everything out of the tent and let it dry. How did it get wet? Elvis sleeps in the tent with us, remember? And we retreated into the tent after the rain had started. The inside of the tent was a red dirt mess.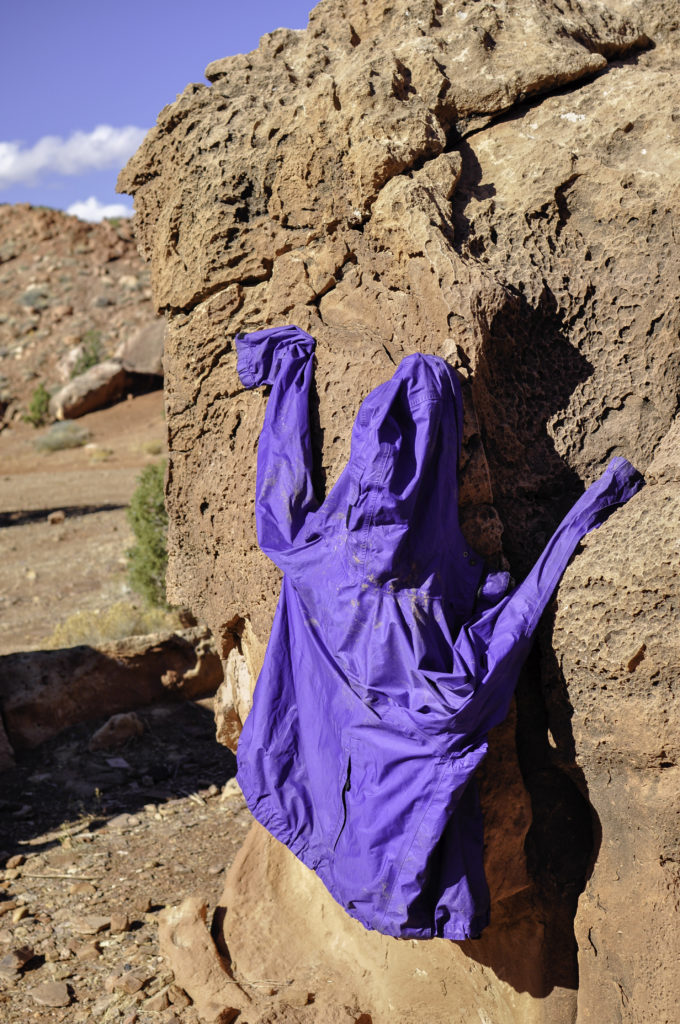 Everything dries quickly here in the desert, but we still got a pretty late start on the day. After arriving back into the land of Capitol Reef we did a little driving – checking out Grand Wash: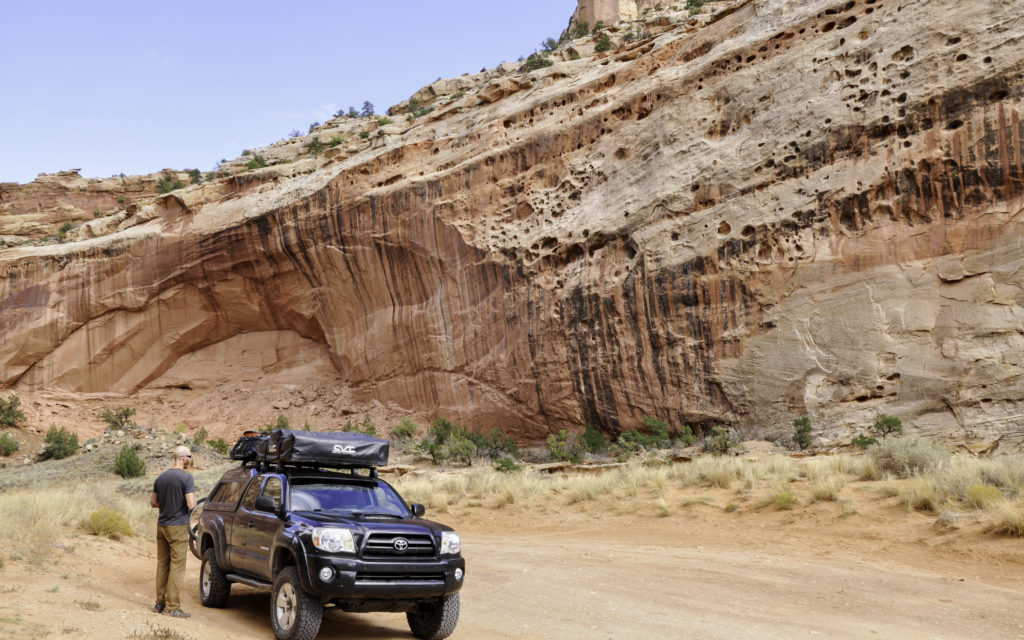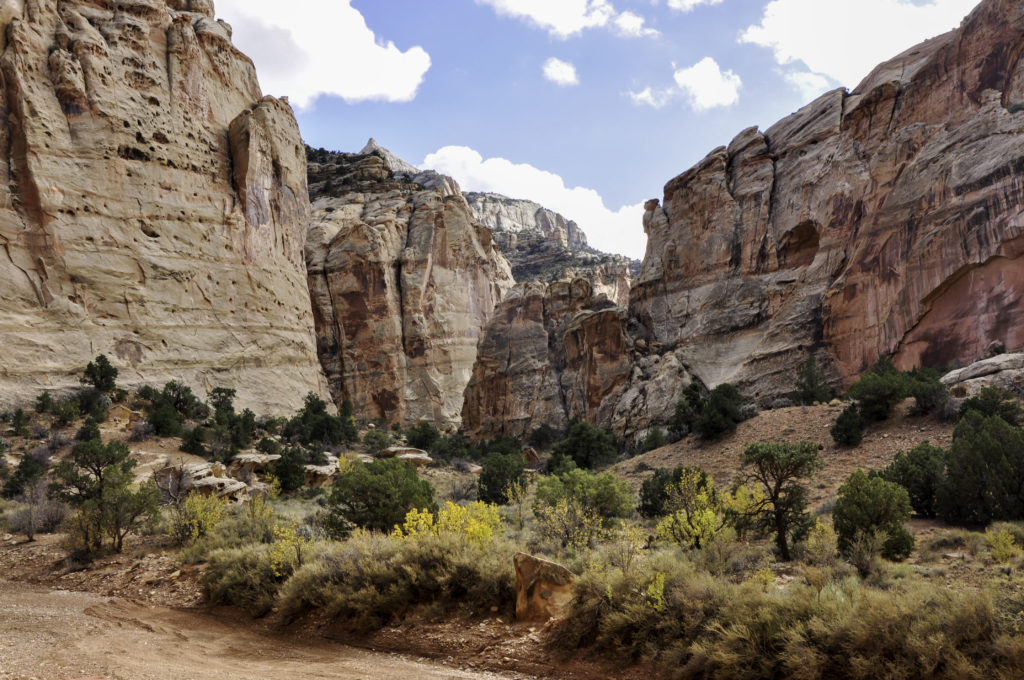 and the Scenic Drive: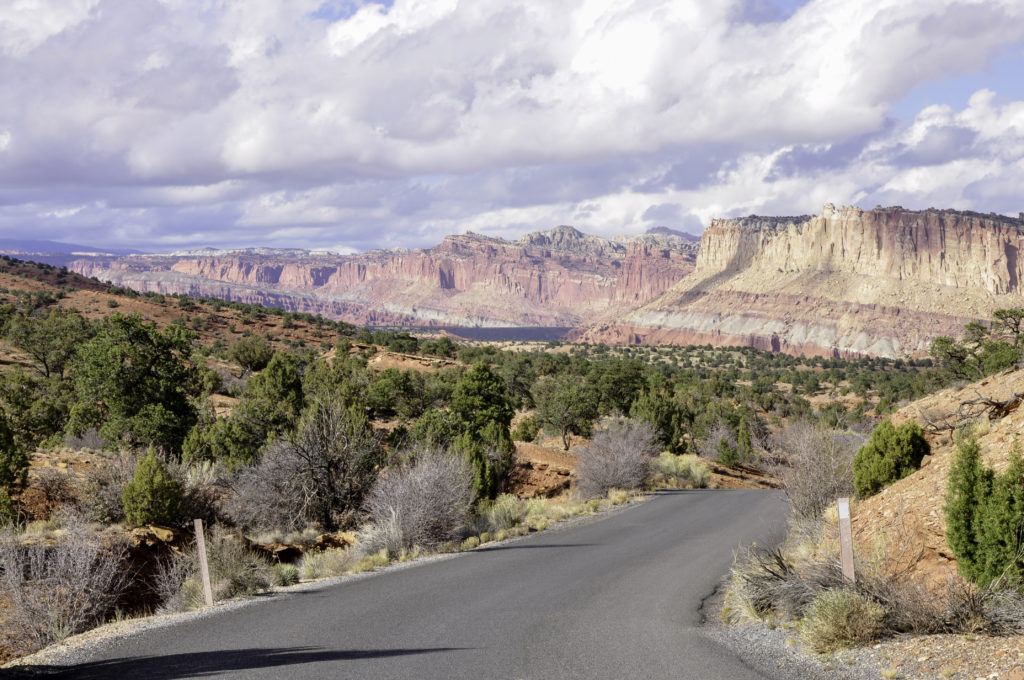 We started the Cohab Canyon trail around 4pm. The light was perfect and it was a gorgeous hike. A couple of the slot canyons were so shallow as to not really be worth it, but the last one… we had to scramble for handholds and footholds to get to the end. It was amazing and fun and gave a sweet vantage point for this picture.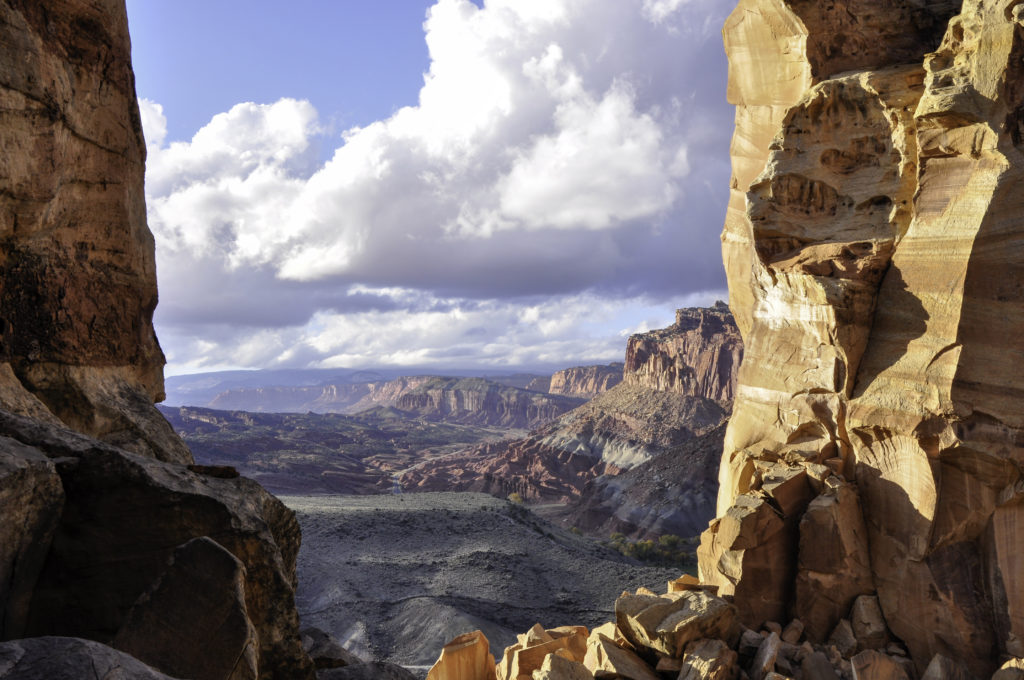 We camped back at that same site outside the Park, although not at the exact same spot. This time the place was empty so Michael gathered all the firewood he could scavenge from the other fire rings. It didn't rain and it wasn't too windy so we had a nice fire, although it took a little extra care to get that fire going. Still, a lovely end to the day.
I'm really smitten with Capitol Reef and would love to spend more time here.