I've been wanting to visit Eureka Springs (about an hour away) ever since we got here, but the planets just didn't seem to align. Until Saturday. It was supposed to be sunny but of course it wasn't, but temperatures were in the upper 40's so it wasn't too bad.
A resort town sitting in the Ozark Mountains, Eureka Springs is a haven for artists and known for its "healing waters." It's full of Victorian buildings and tiny side streets. Eureka Springs is also nestled into a hillside so the roads are steep. There are so many staircases for pedestrians that some of them have been decorated.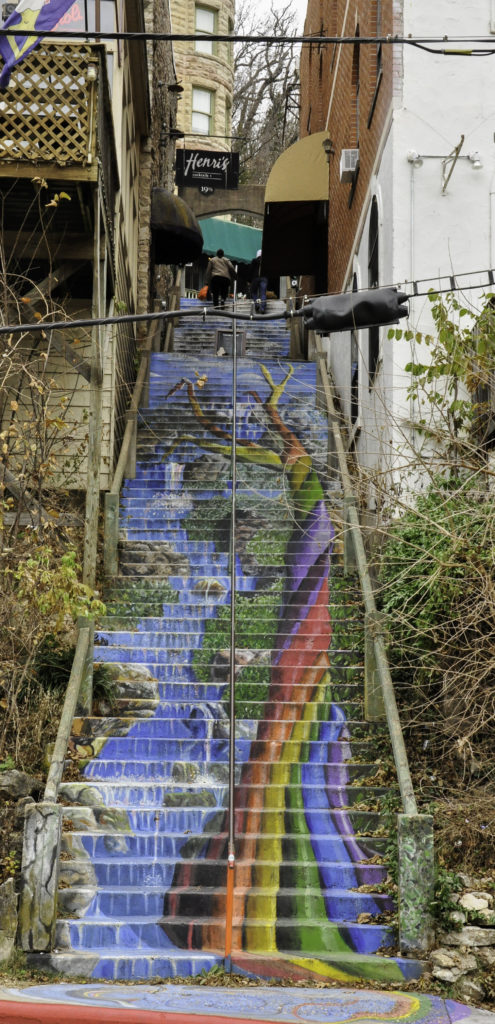 We walked around and did a lot of window shopping.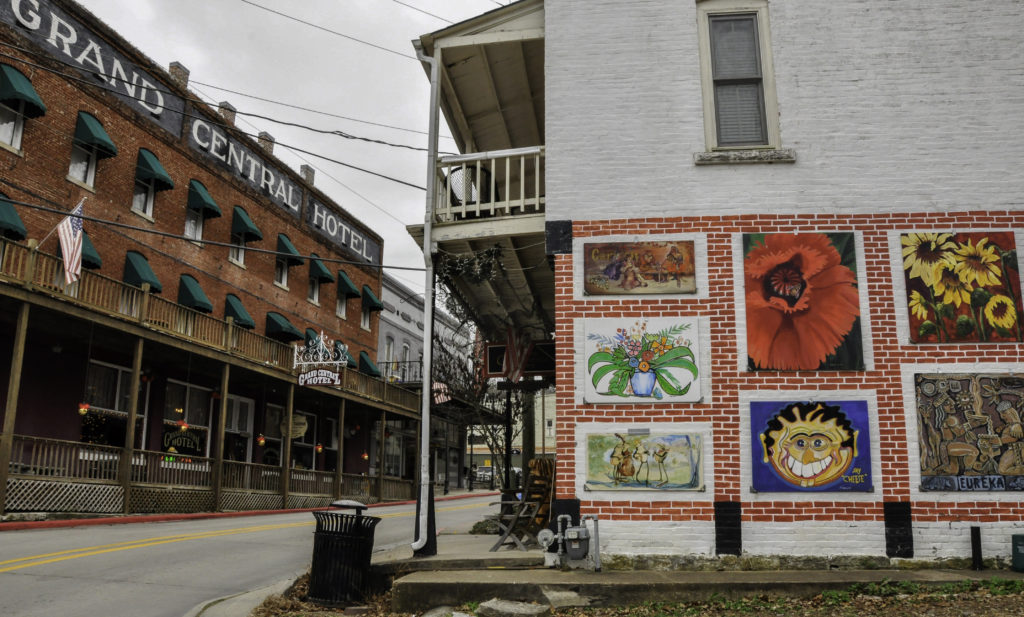 All that walking made us pretty hungry so we checked out a place called Local Flavor. Generally speaking, if a restaurant has people waiting I take it as a good sign. We only waited about five minutes for a table, though, so that was an even better sign. And the food was terrific. Michael and I have traveled a lot, and eaten at a lot of tourist towns. It's rare to find a restaurant with such excellent food in a tourist town.
You want a unique little vacation? Check out Eureka Springs!
I'd like to share a story with you all, and it begins with a bit of a confession: I used to color my hair. (My apologies if you were expecting something scandalous.) I used henna and started about 5 years ago, when I thought I was getting a bit too gray. Root touch-ups happened about once a month. I loved the results! Henna made my hair reddish with copper highlights, and I always thought it looked pretty natural. It was a pretty big pain in the ass, though. Henna is a multi-step process that takes about three hours start to finish and involves wrapping my hair up in a plastic bag.
I quit coloring my hair when we left on the trip. Living in a truck with limited access to water made the thought of coloring with henna much less appealing. The only problem is that there is no chemical process to remove henna – I was just going to have to let it grow out. While we were traveling? NBD. I wear hats most of the time anyway. That was five months ago. And now we're living all civilized and I shower on a regular basis, so I also don't wear hats too much right now. My hair has grown a bit in five months. And my new hair is gray. 
I've been waffling on what to do. I mean, part of me wants to let it go. Let it grow out, and rock my gray hair. Then this little voice whispers in my ear: "you're going to look old." Believe it or not, I have a ready answer for that little voice: "bitch, I will look fabulous."
But still. I'm living in a house, in a town with a Vitamin Cottage (they sell my preferred brand, Light Mountain Natural). I've been thinking about coloring my hair again. I'm just not sure about rocking the silver.
And then – the dinner party. Friday night our friends Barton and Andrea (owners of the sailboat and partners on our sailboat adventure, detailed here) came for dinner with us and Beth and Steve. We had braised short ribs over polenta with mushrooms, an excellent French Beaujolais, and a yummy chocolate cake for dessert.
We're all about the same age, and all of us are getting some gray hair. Well, Barton's hair is still dark, but his beard has a lot of distinguished-looking silver in it. Barton mentioned my hair, going so far as to ask me, "will you show my wife your sexy gray hair?"
Well, shit. Maybe I should rock the silver.