Maybe we should just call ourselves the rainmakers.
No, it's not all like that. We arrived in Jacksonville on a warm and sunny day. We went straight to Blackfly Outfitters. My aunt and uncle, Jean and Vaughn Cochran, own this awesome fly shop, as well as the Blackfly Cafe next door. We met most everybody, including Rapha and Taylor, Jean and Vaughn's labradoodles.
It was so wonderful to see my Aunt Jean again. She might not know it, but she's been one of the more influential people in my life. I was pretty young when I learned that Jean backpacked across South America with her first husband, Dan. That trip lasted eight months. It was a light bulb moment for me. I mean, I knew there was a world outside of Franklin Park, of course. But the people exploring it were big names like Jacques Cousteau or Jack Hanna. Travel was something other people did. Not people like me. Then I heard about Jean's trip. I dunno, maybe it's hard to explain. But that trip is what made me want to travel.
Jean and Vaughn have lived all over the Carribbean – Mexico, Costa Rica, the Florida Keys. Vaughn is a flyfishing guide and artist (check out his work here).They settled in Jacksonville a few years back, and Blackfly Outfitters has become the premier fly shop for northern Florida.
The cafe is pretty new, but I've seen the concept before – a bike shop with an attached bar, for example. Jean and Vaughn treated us to lunch, which was delicious.
The very next night, we were treated to dinner at their other restaurant (yeah – the Cochrans are a busy couple), Blackfly – the Restaurant. And what a treat! All our food was amazing. It was fun to watch Michael talk shop with Jean and Vaughn. It's been months since he's worked in a kitchen but he still has that passion for food.
We set up shop on the Cochran's 2.5 acre property. Bailey had so much fun playing with Rapha and Taylor – it's like he was in doggie heaven. Elvis was his usual grumpy self, although I did catch him playing with the other dogs a few times.
I scored us a couple of nights at Anastasia State Park, and while paying for camping is generally not in the budget, I was pretty sure this is what would happen in Florida during the height of the tourist season. $28/night is actually quite reasonable, considering that each site has water and electric hookups, and there are bathrooms with running water (and flushing toilets, and showers!) walking distance away.
We knew there was some weather coming in. As in, a 70% chance of rain. But we held out hope for that 30% of not-rain. And it almost worked. The rain held off until we'd finished setting up (including the annex!). And then it was a torrential downpour. We hung out in the tent and watched a movie. The dogs hung out in the annex and slept.
After about 2 hours the rain finally let up. It was 9:30 and I was not ready for bed, and neither was Michael, so we leashed up the dogs and went for a walk.
We walked the entire campsite – every loop. Kinda nice to see other people's setups. A mix of everything, really. Tents, pop-up campers, fifth wheels, Winnebagos, and even a few camper vans.
The next morning started out sunny, and I thought we were in the clear. But around 9am it started to rain, and that continued, on and off, for about the next six hours. Damn. We hung out at camp, enjoying out time under the Noah's tarp. It's hard to complain too much when it's 70 degrees outside. Still – that afternoon seemed to be the end of it. We went for a walk on the beach. It was windy but beautiful. And that beach goes on for miles.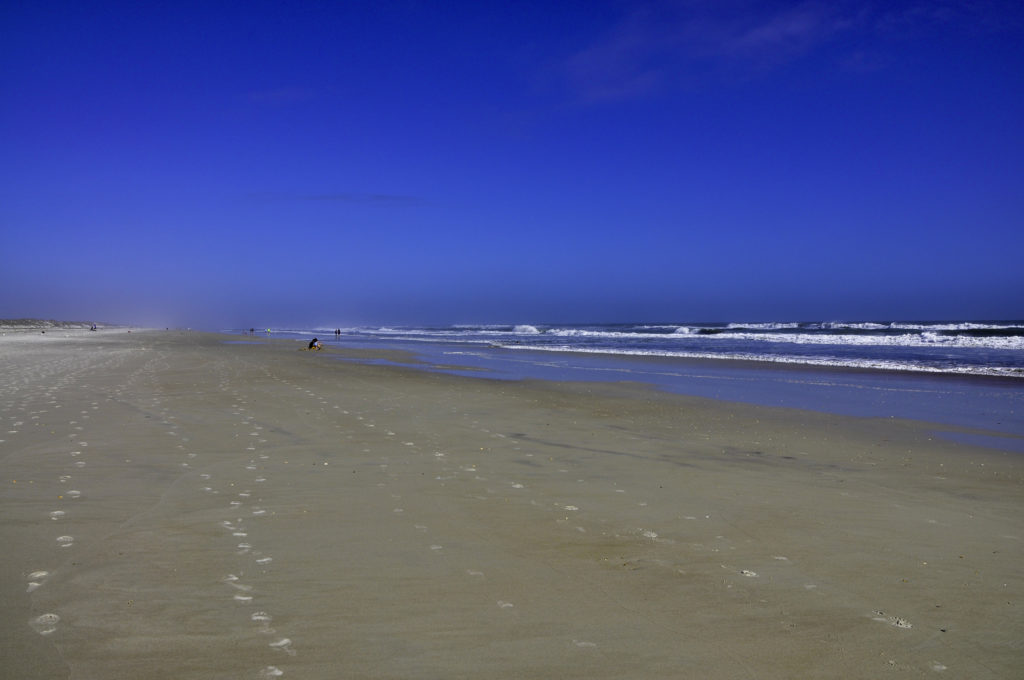 It didn't rain that night, and the next morning was so nice that I was able to take some pictures of our campsite.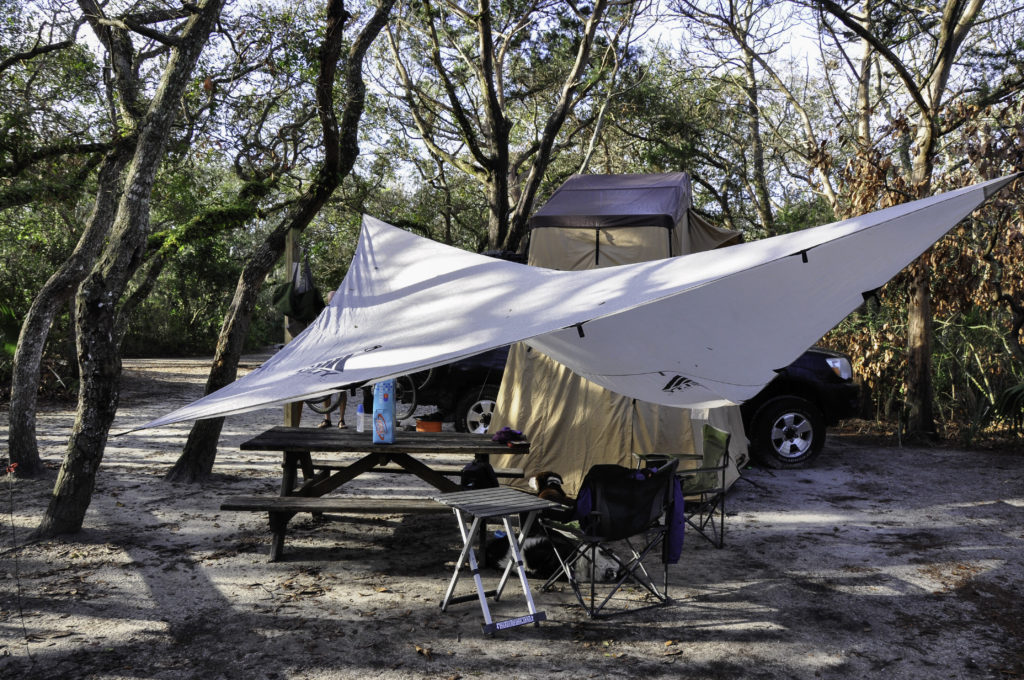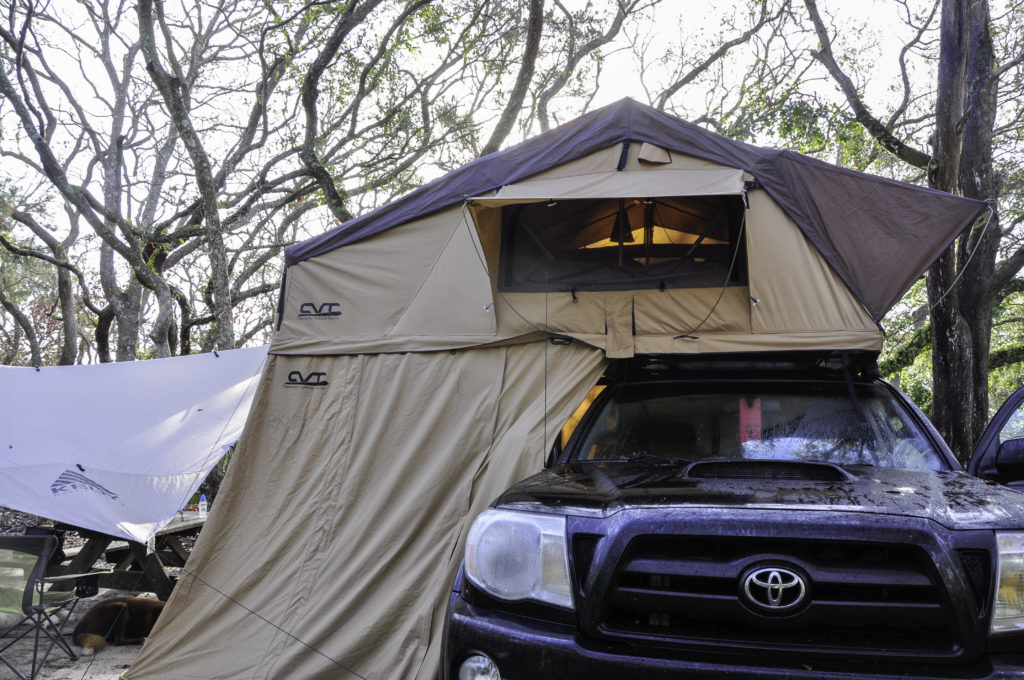 We also took another walk on the beach, this time to the St. Augustine Pier.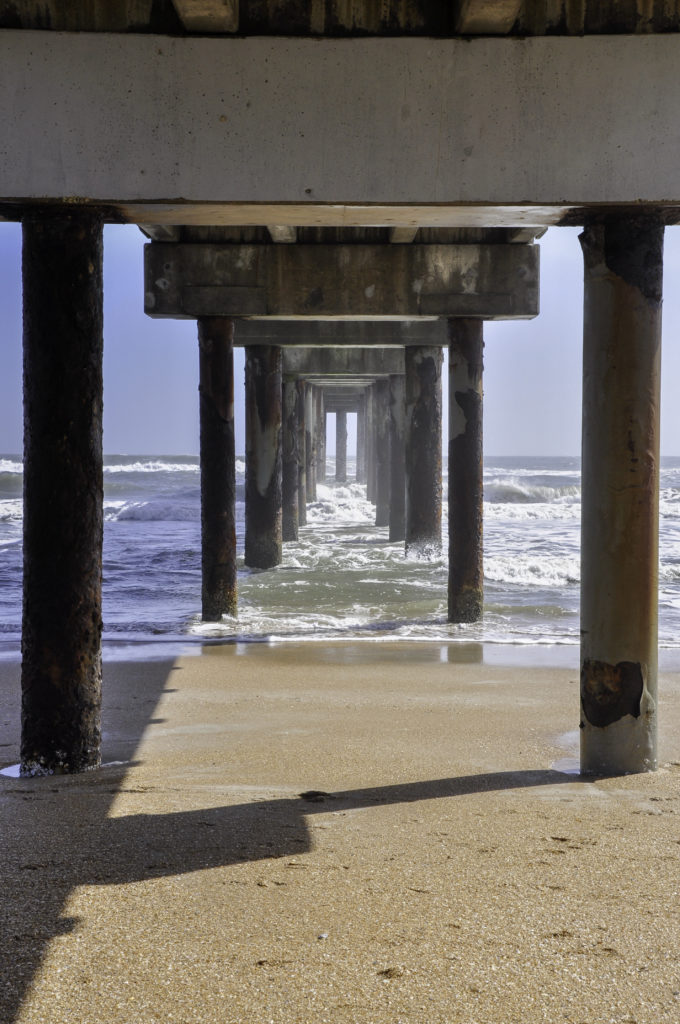 Back at the Cochran's for the weekend, I started trolling the Florida State Parks website. And it paid off! I was able to get us two nights at Jonathan Dickerson State Park, followed by one night at Bahia Honda State Park, followed by one night at Long Key State Park. I'm not sure which one of the Keys sites I'm more excited about. Bahia Honda is legendary. I mean, just check out these pictures! But then, our site at Long Key State Park is right on the water. Can you believe that? For $38.50 we get to camp right on the water.
I can't believe how excited I am. And I checked the weather report for next week: so far so good…