As we came creeping up through Oregon, not one, but two different Portland friends got in touch via Facebook, offering a place to park the truck. And showers.
Our friend Jon used to work with Michael at Colterra, and he rents a place on the southeast side of Portland. He's been there for about 2 years and was excited to show off the city to us.
The neighborhood he's in – nearest to Cesar Chavez Blvd and Division St – is pretty cool. We arrived on a Friday so that night we all went for a walk down Division Street, past the bars and sweet shops, all the way to the corner of Division and 28th. That corner is reserved for a food truck court called Tidbit and you can find everything there from burgers to gyros, sushi to hawaiian bbq, ramen, waffle sandwiches, dessert, and even a beer truck.
The food truck scene in Colorado is a shame by comparison. Hell, this is the best food truck scene that we've come across, in all of our travels. Portland is a foodie town.
The next day John was happy to drive us down to the Saturday Market, right on the river.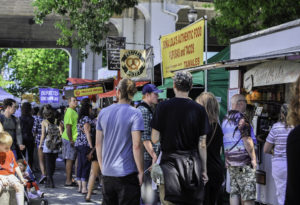 Occurring every Saturday and Sunday, the Portland Saturday Market is an open air arts and crafts market, although there were a spate of food trucks there too. I saw several people walking around with a large, very pink box in their hands. Jon said those were boxes from the legendary Voodoo Donut.
Donuts….. mmmmm…..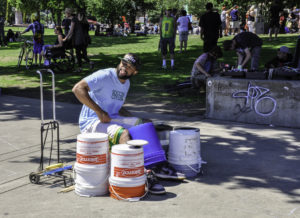 We saw a ton of awesome things but we didn't see the whole market. It's huge! So much arts, crafts, food, and entertainment. No wonder it takes up both days of the weekend.
In the afternoon Jon had to work, so Michael and Bailey and I went for another walk, this time up to Hawthorne Street. It was a beautiful day, sunny but not too warm, and we had fun walking up there. We even stopped for a swing.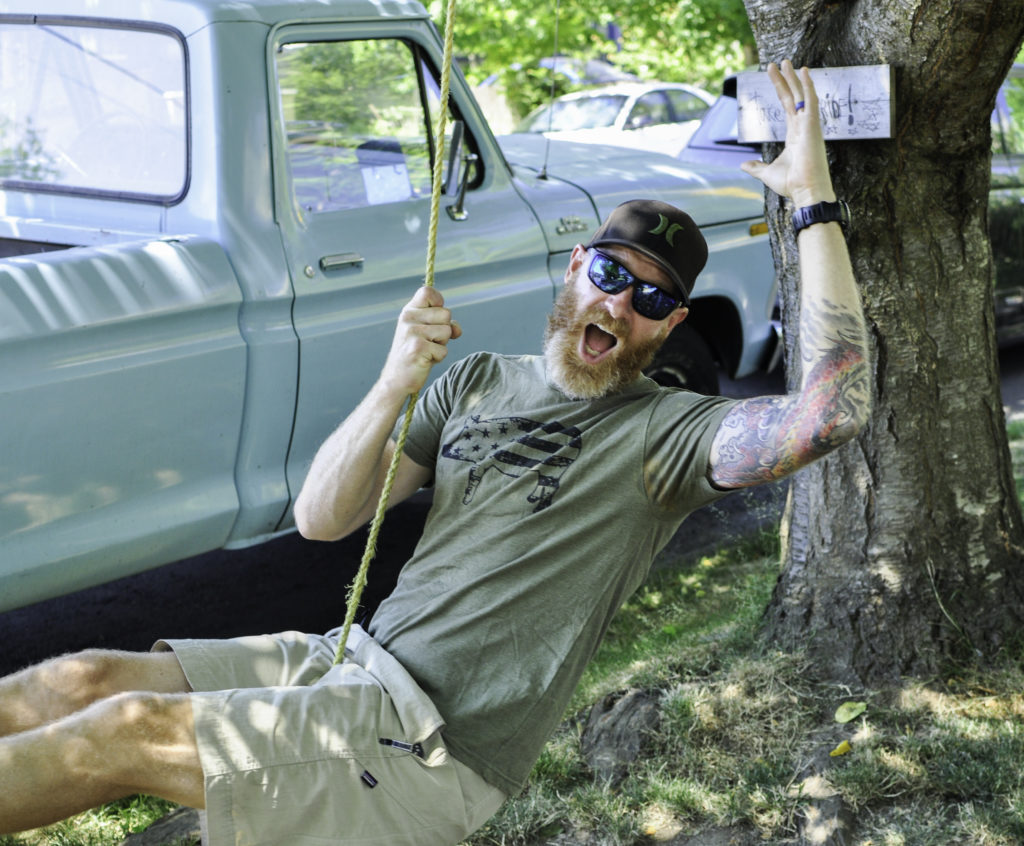 Hawthorne Street was similar to Division Street, but it had a few more shops and a few less bars. We splurged at Blue Star for donuts. Even me! I have to say that my maple-bacon donut was totally worth it. Michael enjoyed his peanut butter & jelly donut.
Barber shops seem to be a thing here in Portland. The first one we saw had this fabulous sign out front: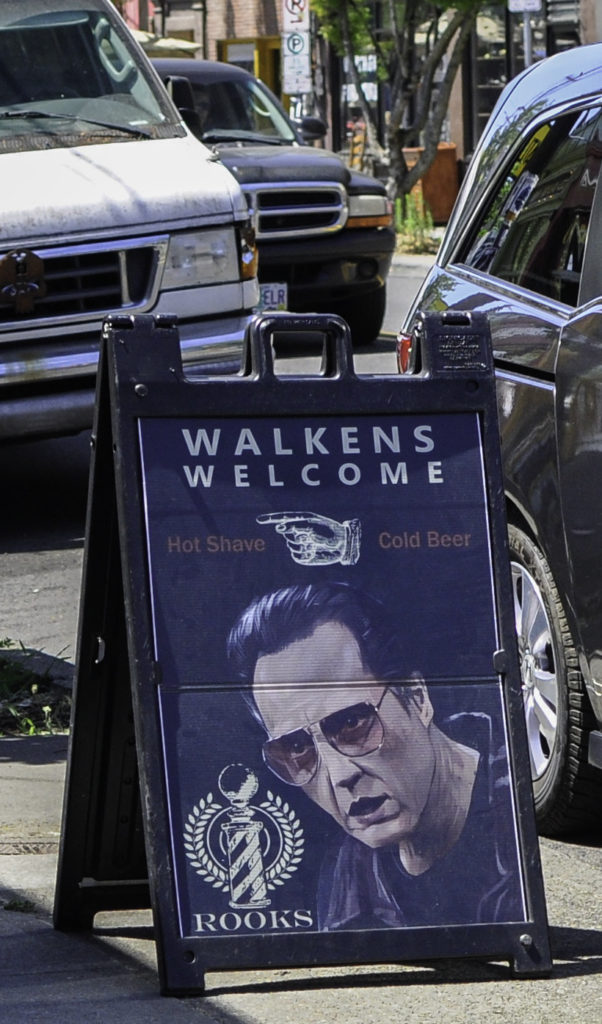 However, when we passed by Bishops Barbershops, we saw that they take nothing but walk-ins. Haircuts were $33 and beard trims (for Michael, of course) were $10. We went in to see how long the wait was (remember, it was a Saturday afternoon) and the guy at the counter said no more than 10 minutes.
It might have been an act of vanity, that I signed in. Everyone who worked there looked pretty young and hip and had good hair. I desperately needed a trim – my last cut was in November – and I figured a place like this would be capable of giving my a good cut, instead of something that might make me look like an old lady. It's happened before. As for Michael, well, he recently broke his favorite clipper guard, and his beard had been getting to the "bushy" stage. He signed in for the beard trim.
I had barely gotten Bailey to lie down then they called my name. And by the time my cut was done, Michael had gotten his beard trimmed and was letting everyone in the waiting area pet Bailey. Success all around!
Everywhere we took him, Bailey was a big hit. I mean, two of the ladies at the hat shop gave him treats. He looked like he'd died and gone to heaven. He might not be the brightest bulb, but it's kinda nice to have a dog who actually, you know, likes people.
Sunday afternoon, I checked yet another item off the bucket list: Oneonta Falls.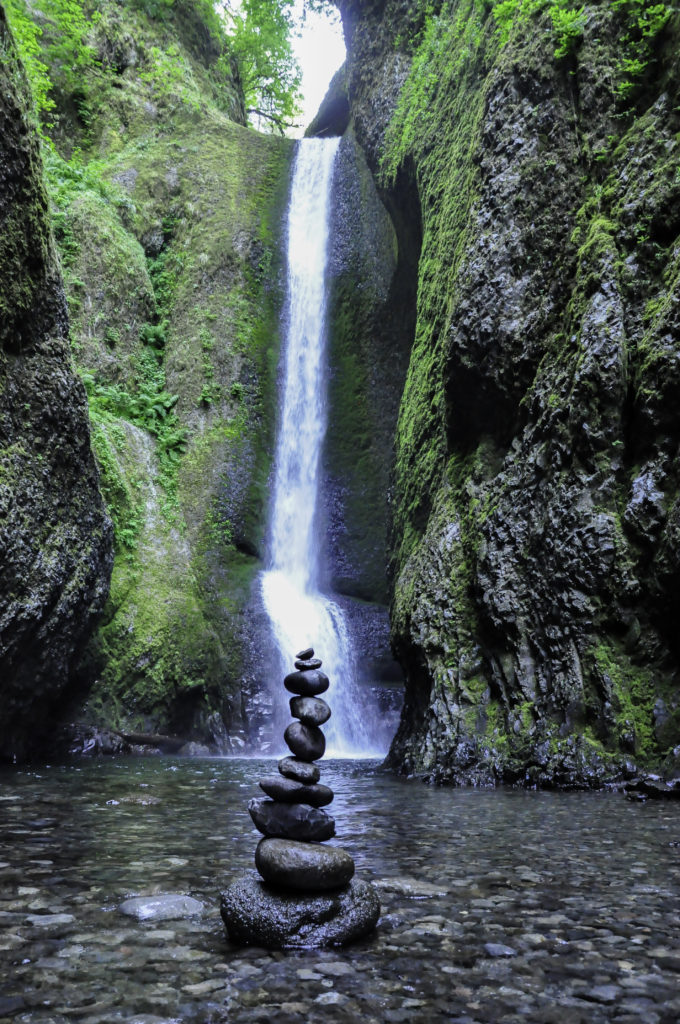 We left Bailey in the truck for this one. The trail is only about a half mile, through a narrow canyon, and it involved some wading, all of which he certainly could have handled. Jon suggested not bringing him, though, because of the Log Jam.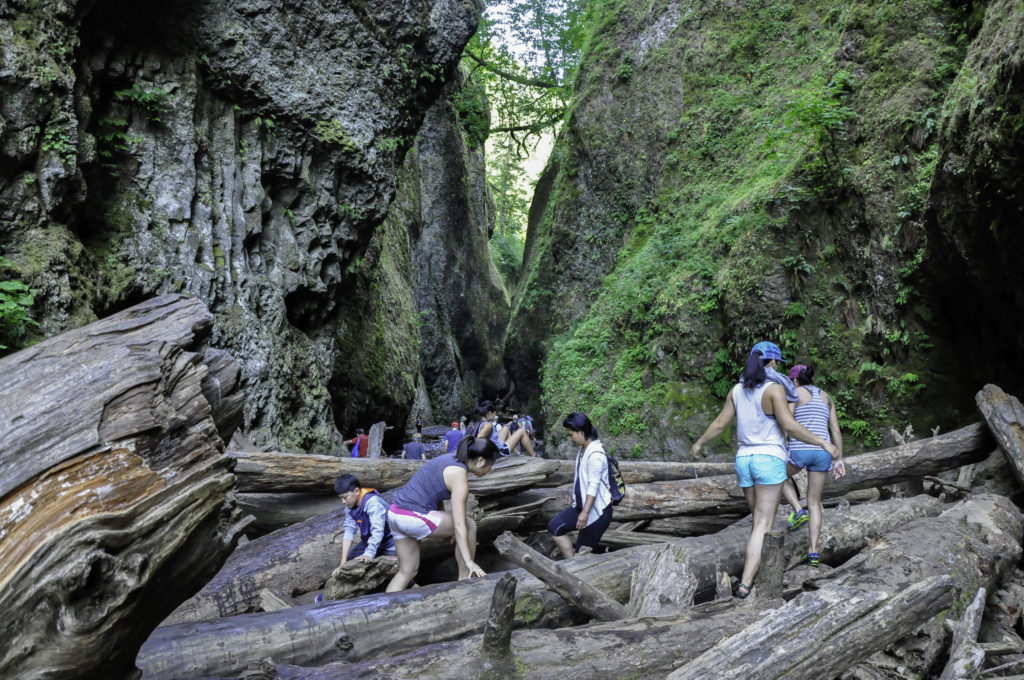 The hardest part of the log jam for us was avoiding all the other people (Oneonta Falls is pretty popular) but this could have been disastrous for Bailey, as strong as he is. It just wasn't worth it. Bailey didn't seem too disappointed. We'd parked in the shade so we left him a bowl of water and told him to guard the truck.
Luckily for us, after the Log Jam the crowds thinned out a little bit.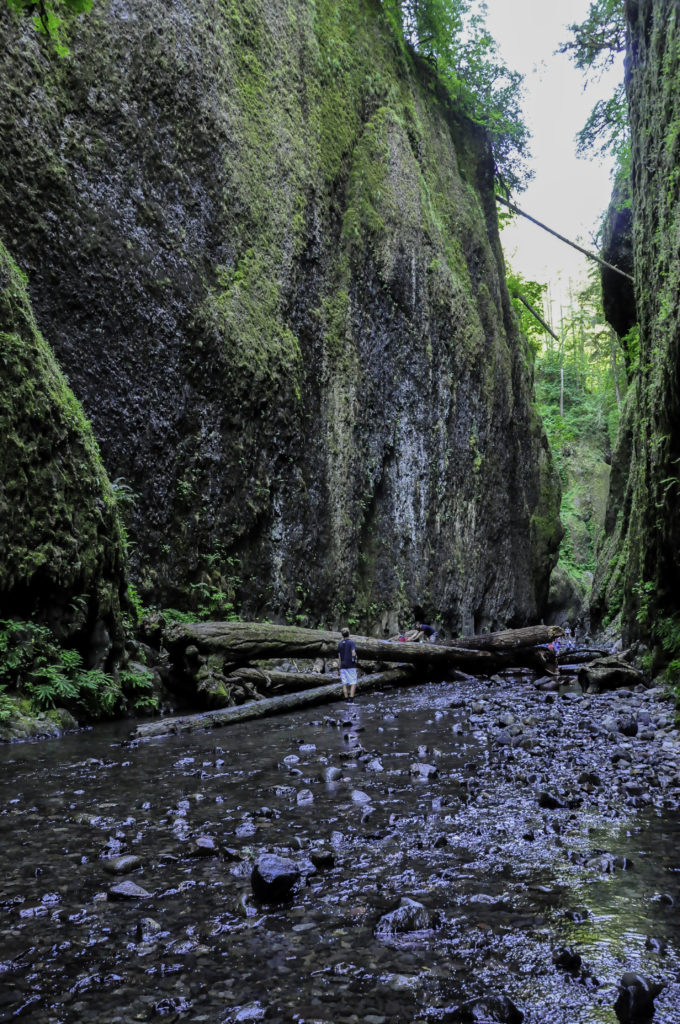 At certain times of the year, the approach to these falls involves wading through chest-deep water, but it was high summer when we arrived, so there was only one spot where the water was about hip deep (on me).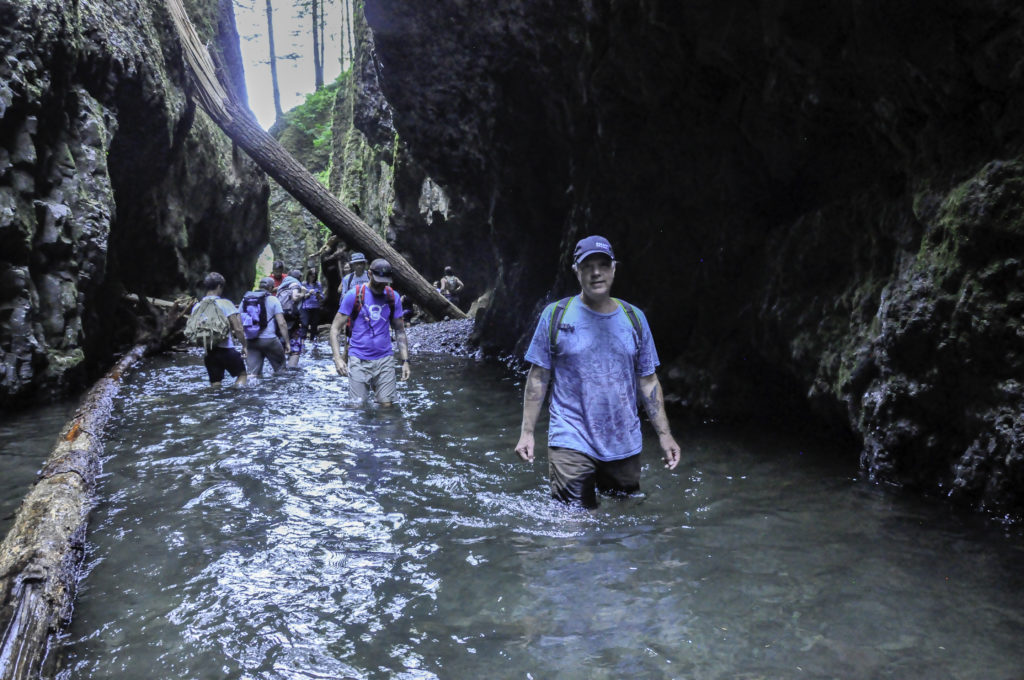 This was the kind of hike that I wished was longer. It was too much fun. It was a lot like that slot canyon hike we did back in Utah. I even was able to take a couple of pictures with no people in them.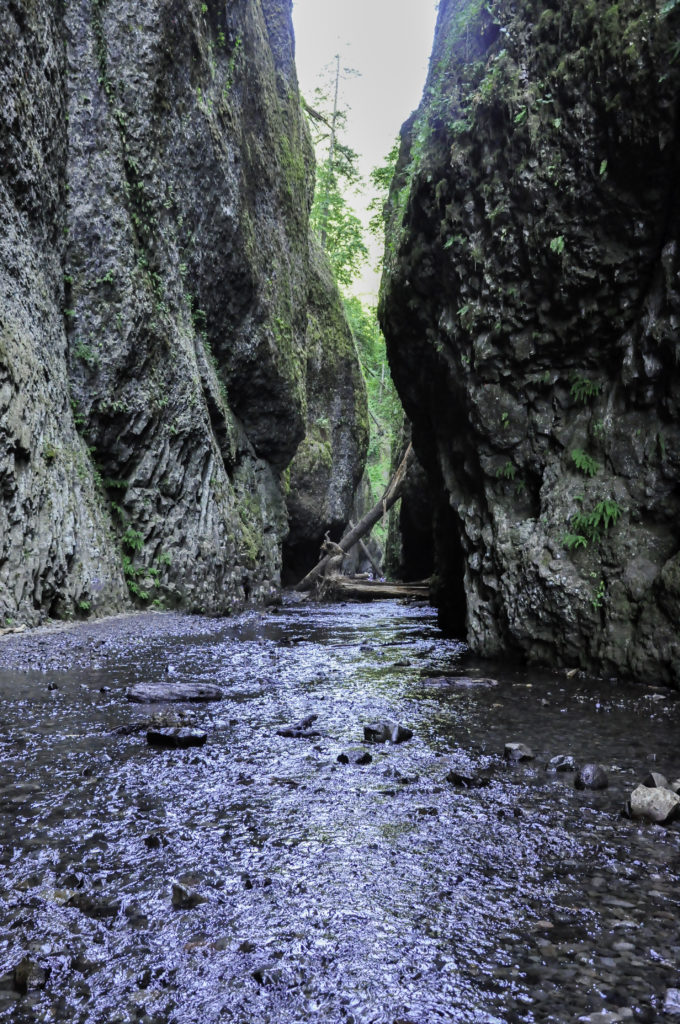 This hike was magical. The water was chilly though, and by the time we got back to a dry trail I couldn't feel my toes. So we walked over to Horsetail Falls and Jon took our picture.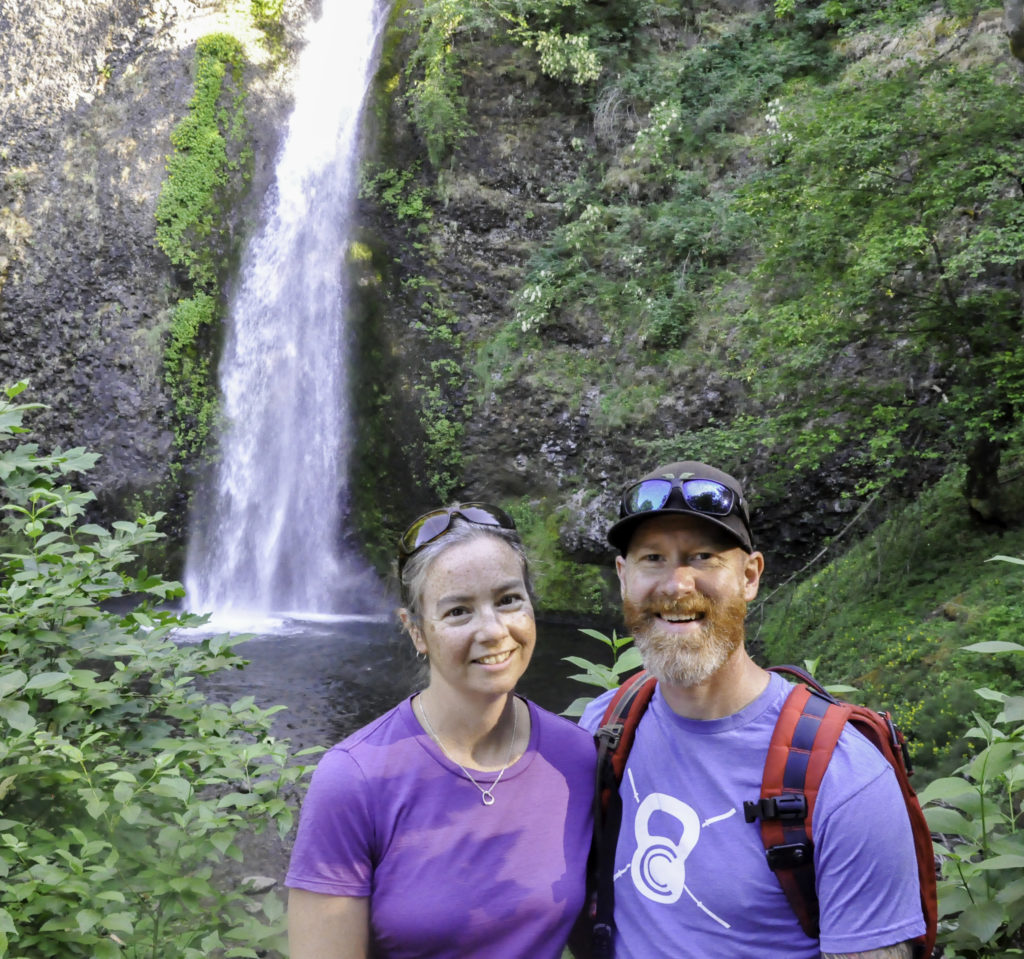 Such a great time. But we weren't done with Portland yet…