First things first:
Unfortunately for us, Michael's been having some trouble with his knee lately. Kind of since around May, actually. He's been doing some trial and error stuff, taking ibuprofin when necessary. But while the pain might come and go, it never seemed to go away entirely.
He actually went to Urgent Care way back in Lake Tahoe, although the doctor there just gave him a referral for a specialist. Unfortunately the earliest available appointment for the Lake Tahoe specialist was 3 weeks out.
He soldiered on, but for the past three months Michael hasn't been able to do as much as he liked. Remember when we hiked 6 miles in Mt Rainier National Park? Well, he walked in pain for almost a week afterward. Trial and error sucks.
So since we've been hanging out in northern Michigan, waiting for the rain to clear off, I asked my parents about their orthopedist. Which of course they have one – my mom just had her knee replaced a couple of months ago. My dad made a couple of calls and luckily their doctor had an opening.
Of course, the specialist took some x-rays but said he'd need an MRI to make a diagnosis. And their MRI facility, part of Munson Medical Center, said they could get Michael in two days later. At 5:45AM.
That sounded great – at first. Here's where I need to add an important detail: our bare-bones health insurance doesn't cover much more than doctor visits. So for this MRI we're on our own.
Michael called Munson's billing department and asked them what our cash price would be.
$2400.
You read that right. Over two thousand dollars for an MRI.
Michael decided to call around (the Traverse City area has three MRI facilities) to see if any of them could give us a better price. Best we found was $1100. Better, but it still sounded a little high.
On a whim, Michael looked up an MRI facility in Lakewood, Colorado, and called them up. Their price? $450.
Of course, making this happen is not as easy as it sounds. You can't just call up an MRI facility and make your own appointment. A doctor has to do it for you. And when we asked our Michigan doctor's office about it, the scheduler there said, "Ummmm…. I'm not sure I can do that."
So we had the office fax everything over to Michael's previous GP back in Longmont. And when they have all the information, we'll ask them to call the Lakewood place and make an appointment.
But the rest of that is another story, for another post. For us, it was time to check out Michigan's Upper Peninsula. The weather cleared – finally! – and sunny skies were in the forecast.
Since we drove across the UP on our way to see my parents, we had a pretty good idea of where to go this time: Pictured Rocks National Lakeshore. There is a lot to do in this area, but with Michael's knee acting up we tried to keep the hiking to a minimum.
Our first stop was an area called the Log Jam, which was actually a sandy cliff with a lot of poison ivy. Still, I got a nice picture of Lake Superior.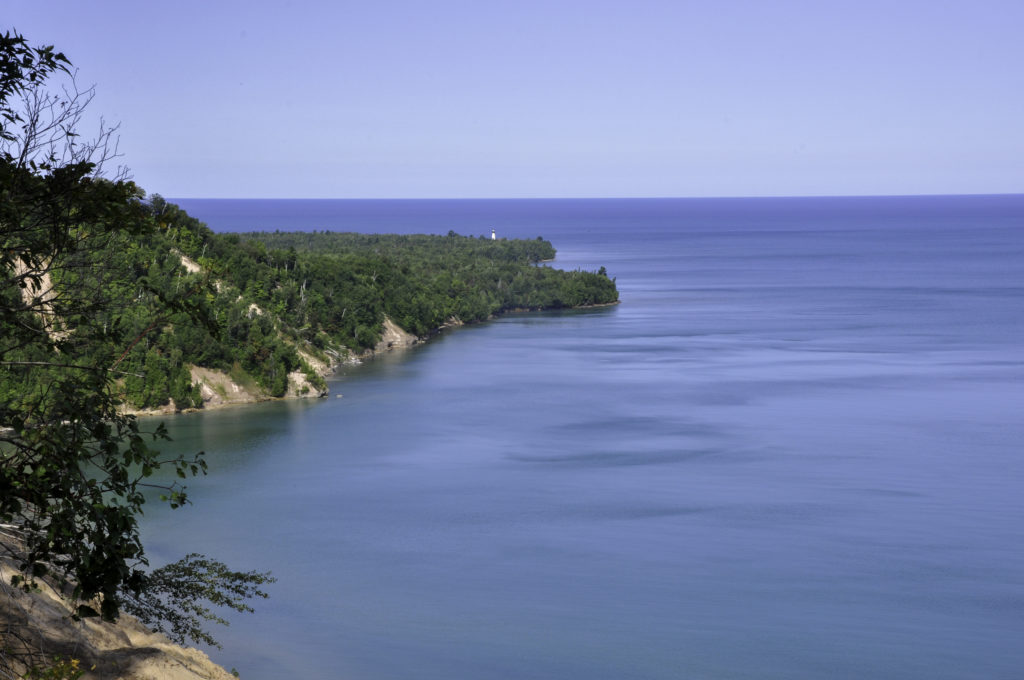 Plus, we got to learn about logging in the UP, which went on year round. Yep, even in winter.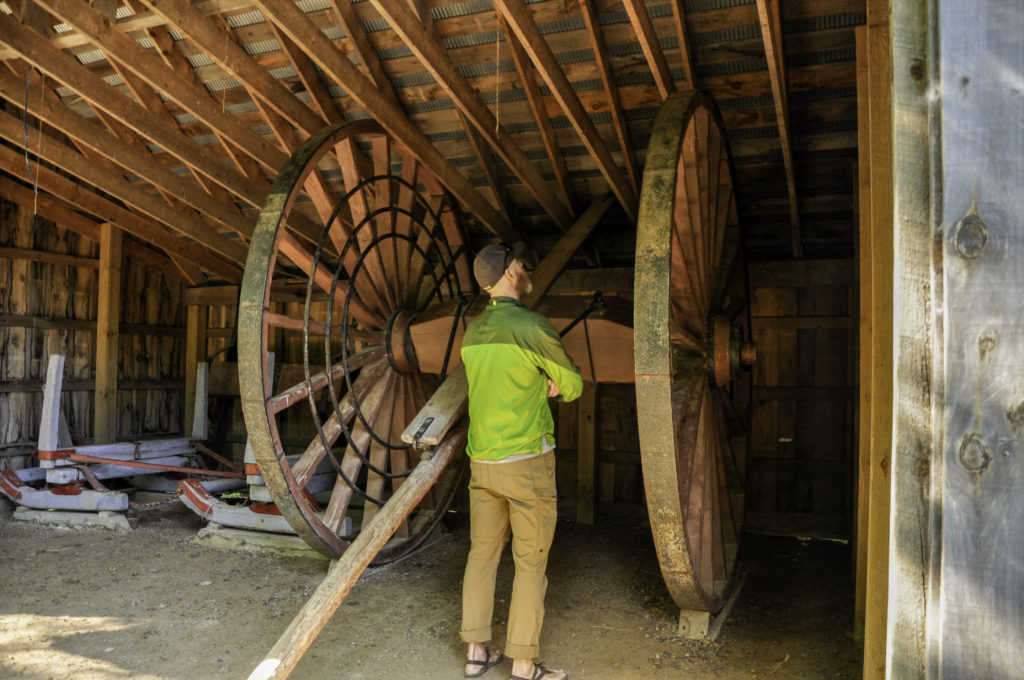 The wheels were used in summertime, the sleds (on the left) in the winter, when loggers would put water down on the road at the end of the day. The water would then freeze overnight, making the heavy sleds easier to pull.
Our next stop was the Au Sable lighthouse. First constructed in 1874, this lighthouse helped illuminate one of the more dangerous stretches of Lake Superior.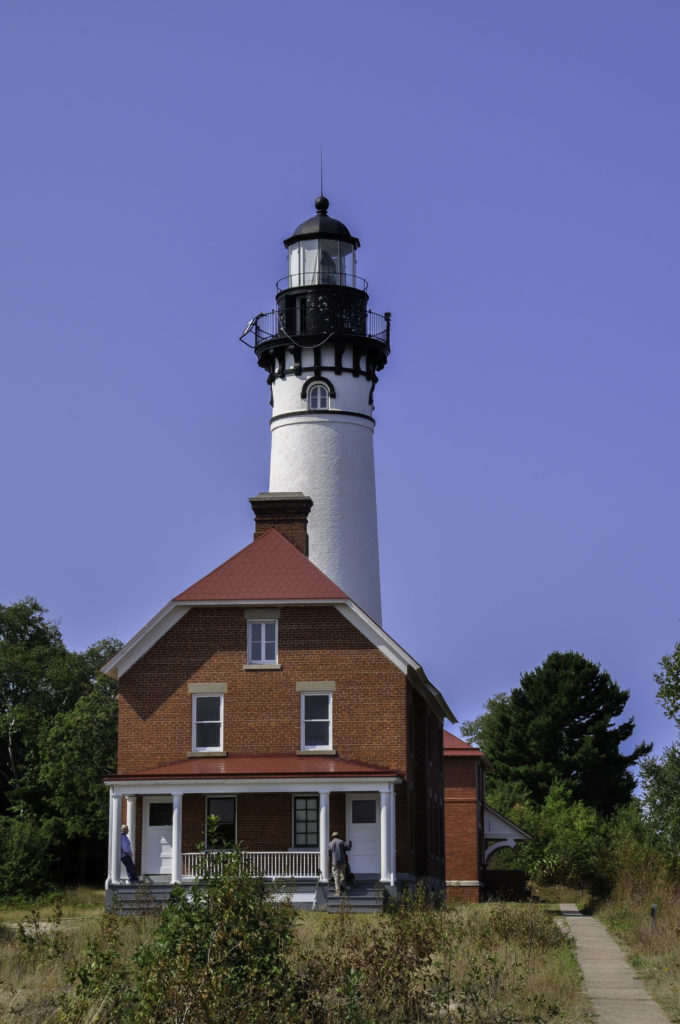 The shoreline along Pictured Rocks (about 42 miles) hold the remains of several shipwrecks – including three that have partial remains washed up on shore.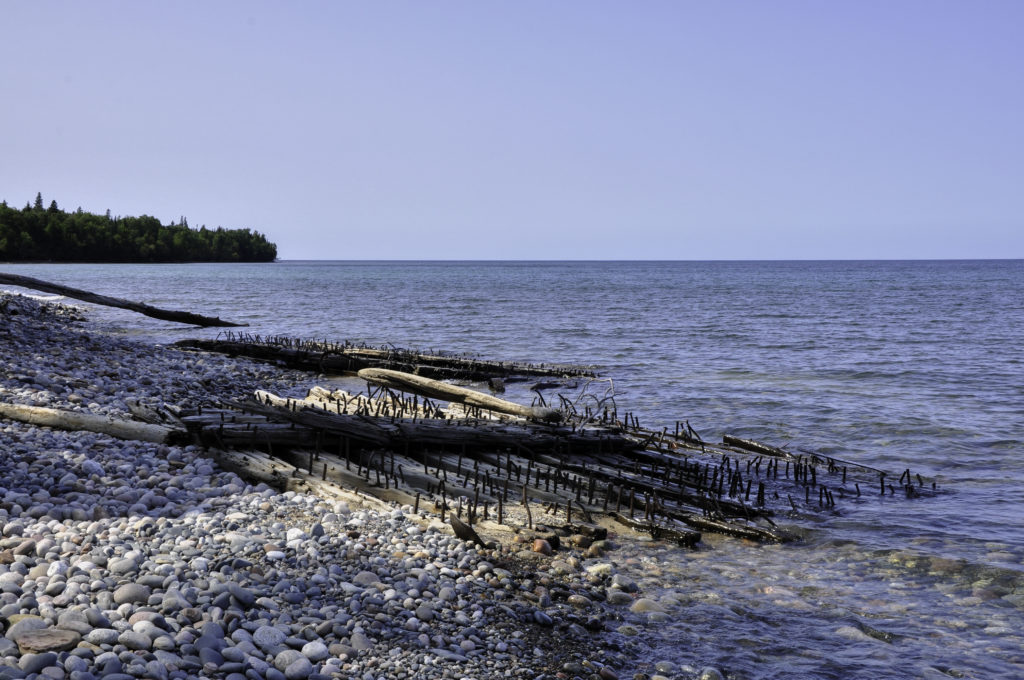 I know, it's almost disappointing. I was expecting more, too. But these were wooden ships that went down in the 1800s. I read that what's left, what you're seeing, is actually sections of the hull. This image might help: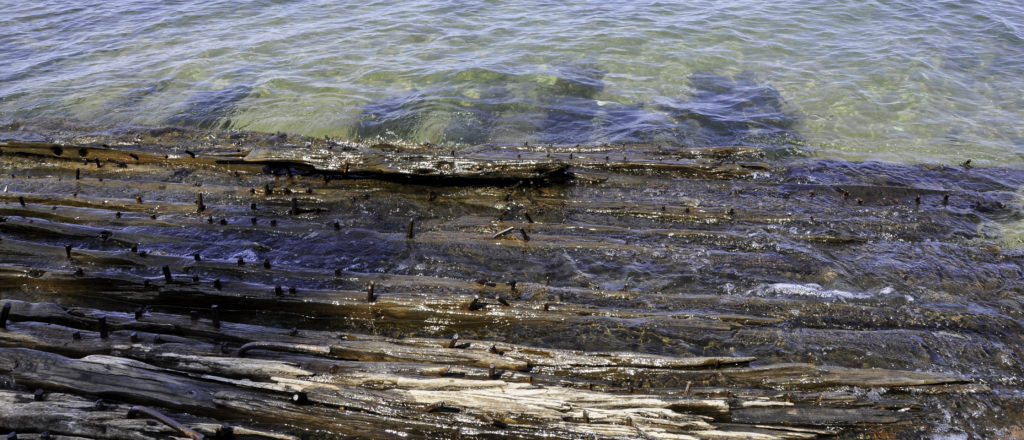 No? Well, it didn't for me either. But I sure had fun photographing the wood and the giant nails.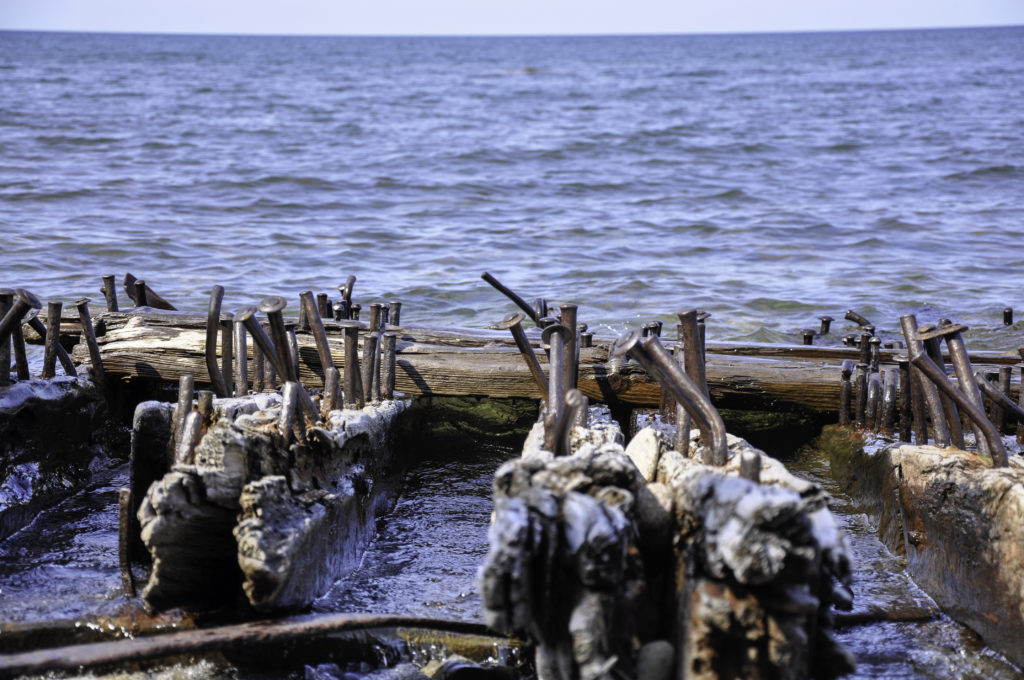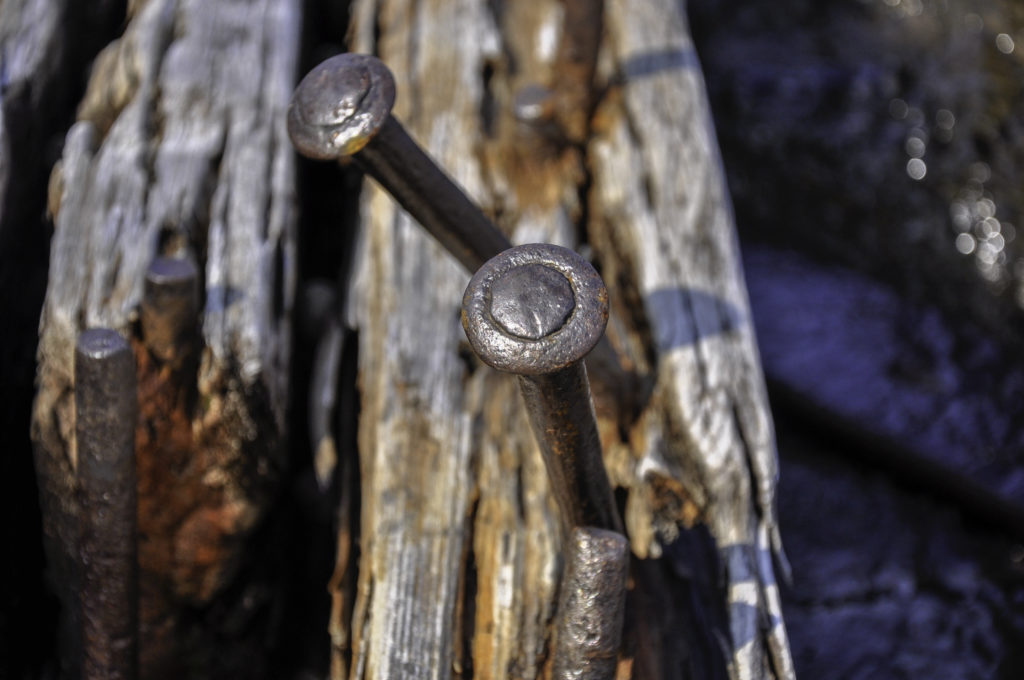 We had to hike out to the lighthouse – about 3 miles or so roundtrip, and on an access road. Still, at the end Michael's knee was hurting so we didn't hike to much else that day. When we reached the town of Munising, though, we did walk the 800 feet out to Munising Falls. There are 199 named waterfalls in the UP, so we figured we should go to at least one of them.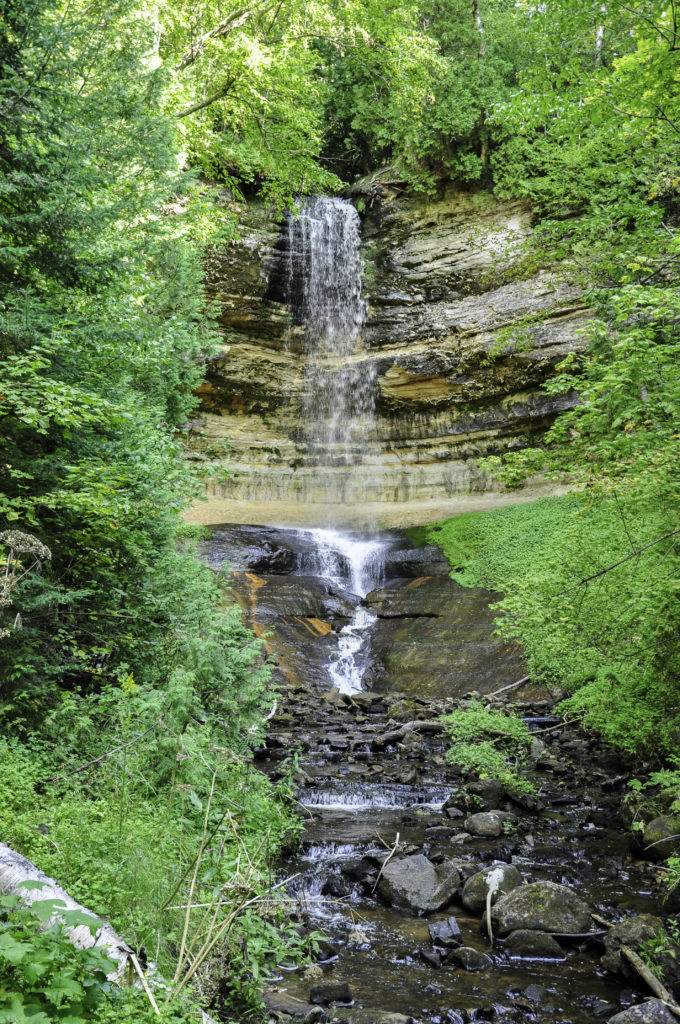 While in Munising, we headed over to the office for Pictured Rocks Cruises. You can hike along the cliffs of PRNL, but the best way to see the rocks is from the water. And as luck would have it, there was still room on the 6:30 (sunset) cruise. It would mean getting back to our camp site well after dark, but Michael said it wouldn't be a problem. So we went for it.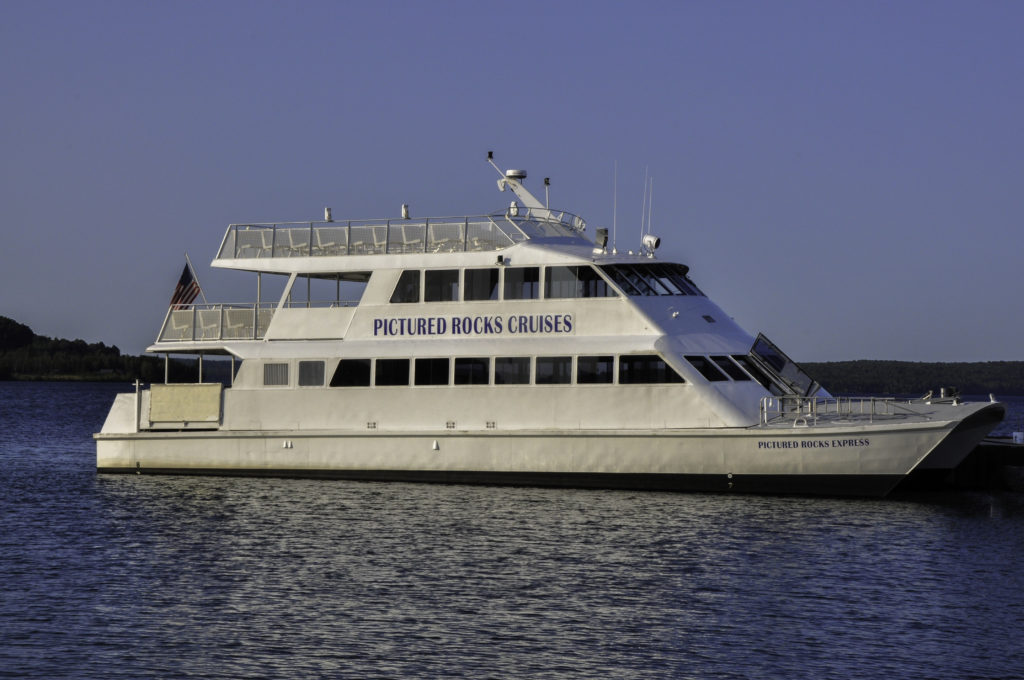 The line for our boat (above) didn't look that long but by the time we got on board, all the seats on the right side of the boat were taken. This was a problem for me. See, on the way out (when the light would be best), the shoreline would be on the right side of the boat. I didn't want to have to fight for space to get my pictures.
Undeterred, I waited until we were underway, then stood at the back of the boat, on the bottom deck. I had to lean over the railing a bit but I took all the pictures I wanted with nobody else in the way. A few others people joined me but for the most part I had the deck to myself.
I took hundreds of photographs. This cruise was a photographer's dream! Sorting and editing all the images took several days, though…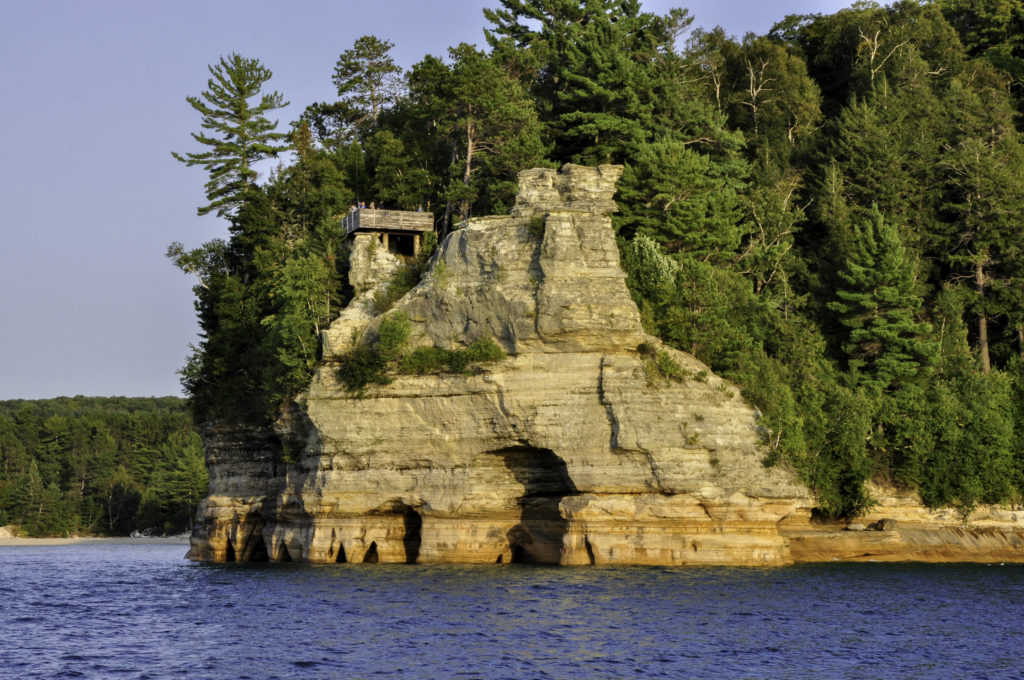 This is Miner's Rock, and it shows the caves and holes that form in the soft sandstone due to wind and water erosion. Yes, that's a viewing platform on top. Pictured Rocks has miles of hiking trails and backpacking sites.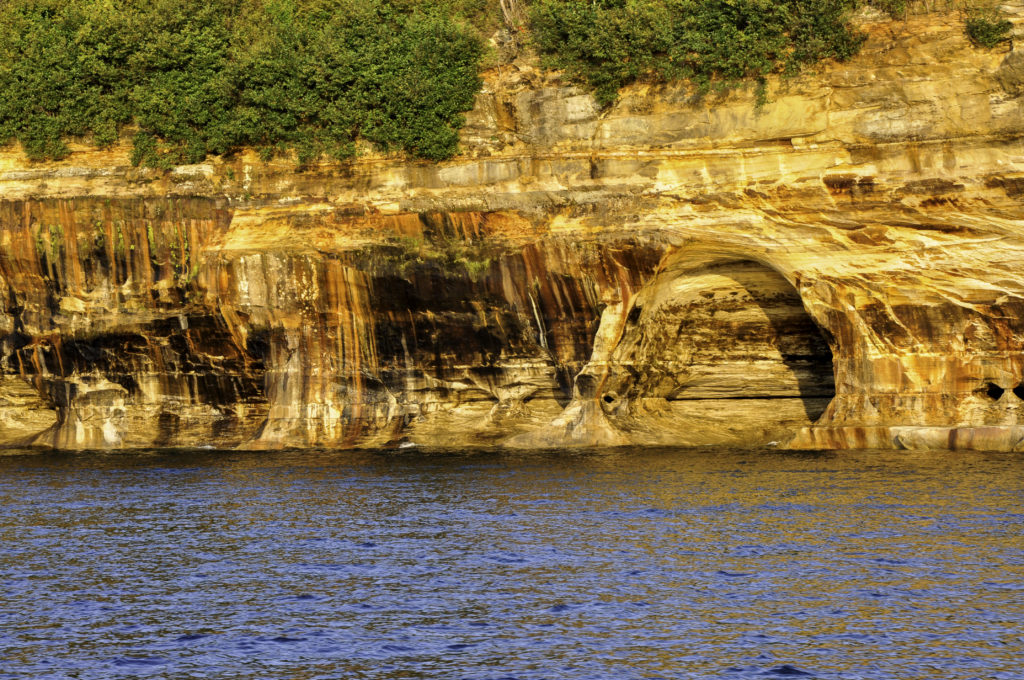 The colors come from minerals found in the layers of rock.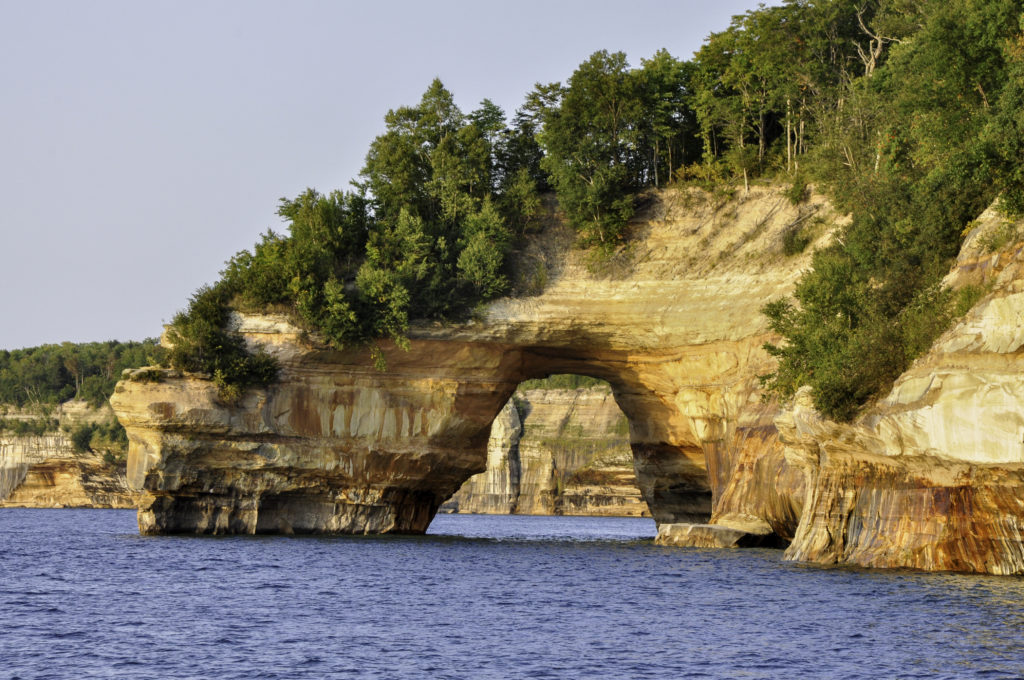 This is Lover's Leap, one of the more famous formations at Pictured Rocks. I don't know who'd be crazy enough to take that leap – it's a 50 foot drop and the water underneath is only three feet deep.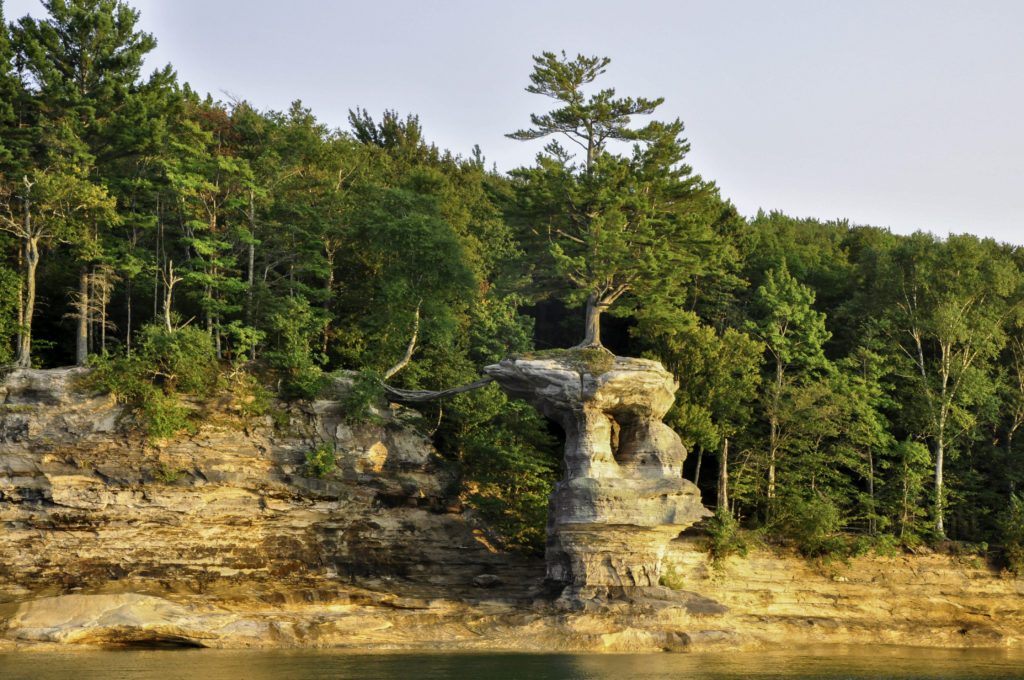 Another well-known image, Chapel Rock can be accessed by water or by the 2.5 mile Chapel Trail. This rock formation was once connected to the mainland by a rock bridge, but that bridge collapsed in the 1940's. If you look closely you can see the roots of the tree atop Chapel Rock, connecting it to land.
The sun set on the way back, and only then did I rejoin Michael up on the top deck. I'm so lucky that I have such a patient husband, you know? The kind who doesn't mind spending most of a sunset cruise by himself. He showed me that he got some great shots with his phone and everything.
Pictured Rocks was well worth the wait.