We spent a total of 10 days in Colorado, and let me tell you, those days were a whirlwind. Michael and I joked that we were somehow more popular now then when we actually lived there.
We went to so many bluegrass picks – and I was happily surprised that I hadn't lost all my dobro skills in our year-plus on the road. My friends and former bandmates, the Pattons, threw a pickin' party in our honor and that was a blast. We took in two Oskar Blues jams (the Tuesday jam in Lyons and the Sunday jam in Longmont), as well as two Saturday picks at Paul's Tea and Coffee in Louisville.
Have I mentioned our adventures with the storage unit yet? Because man,  if I could go back in time…
No, seriously. If I could go back in time I'd tell myself to just. get. rid. of. it.
All of it.
When we stood in front of our very full storage unit for the first time I suppressed the urge to take a step back. I wanted to just light a match. What was all this stuff?
Then I remembered that my clothes were in there.
Okay, so maybe not get rid of all of it. But damn, we kept waaay too much. All my power tools. The tool bench full of supplies (and more tools). The queen-sized bed frame. The lamps, which were cheap POSs from Target anyway.
What were we thinking?
I guess I figured that I'd want all that stuff when we got back. I loved that bedframe. And all my power tools. But here's the reality of our lives: in our first few weeks on the road, we were jettisoning stuff left and right. We sent two boxes of stuff two our friends Dan and Lisa back in Colorado. And after that we continued to lighten the load – but we just gave stuff to goodwill. We adopted the "two week rule." If we hadn't used it in two weeks, we got rid of it. There were obvious exceptions to this rule (like the first aid kit, or the down jackets.)
In short, we learned to live a pared-down life. The truth is that you really don't need that much stuff. You don't.
Back to the storage unit: we got rid of a lot of it. Some of it (like the bedframe) was easy to let go. Some of it (like my power tools and tool bench) was painful. But we couldn't fit the bedframe into the trailer we'd rented for the California move. And since we can't afford to buy anything in Cali, I would have little to no use for my power tools – much less a place to use them in. Off they went. While we had to give away the bedframe, I'm happy to say Michael sold the tools to a friend who is also a new homeowner. So that one was a win on both sides.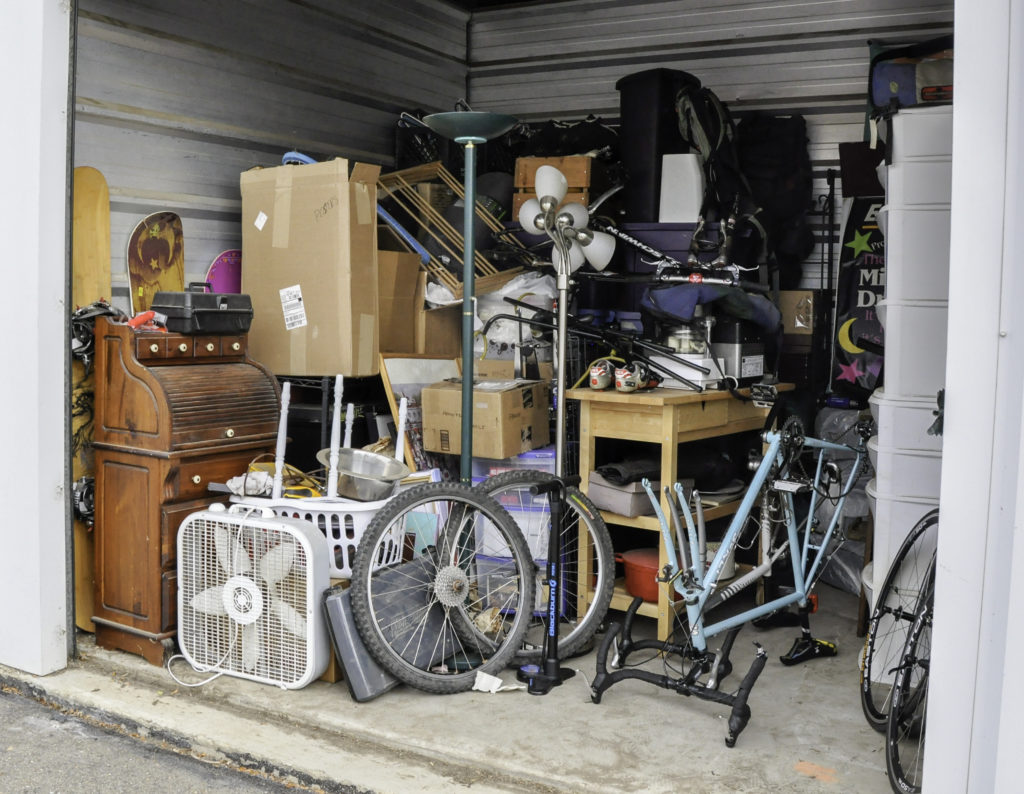 Tuesday the 26th we picked up a 6'x12′ trailer from Uhaul and loaded it up. Our friend Cory helped, and we gave him even more stuff. Like those POS lamps.
Wednesday morning we left for California.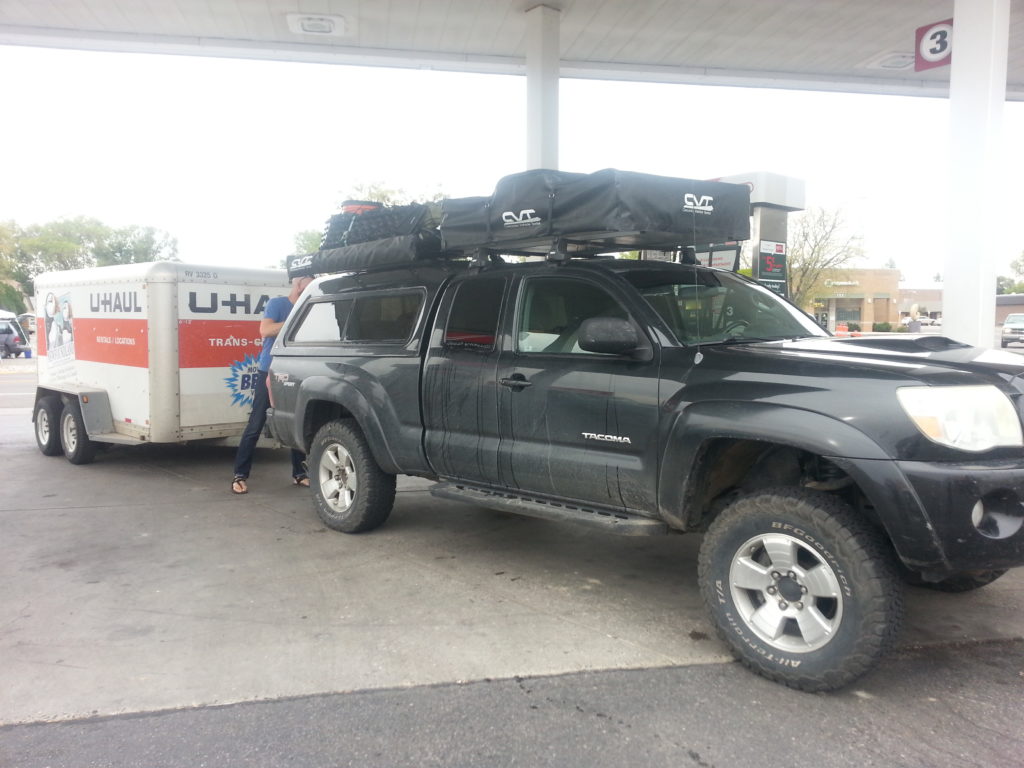 If you thought Taco Negro got lousy gas mileage before…
I lost count of the number of times we stopped to fill up the truck. Michael said that on longer climbs (like over Vail Pass in Colorado) he could actually watch the gas gauge needle drop.
I thought the gas gauge on my little white Honda Accord was broken. When we stopped in Fruita (where the picture above was taken) I was still only halfway though my first tank, something that seemed impossible.
Other things of note for the long drive: I have to admit, I cried a little when I passed Copper Mountain. One more winter that I won't get to snowboard. Never say never, I know, but there's no snow in the central coast of California.
And I cried a whole lot more as we passed the turnoff for Moab, and as we passed through the edge of Utah's canyon country. I never did get to see the San Rafael Swell. Or Bryce Canyon, or Zion National Park. But I did spend 5 weeks in Moab. I got to hike Little Wildhorse Canyon.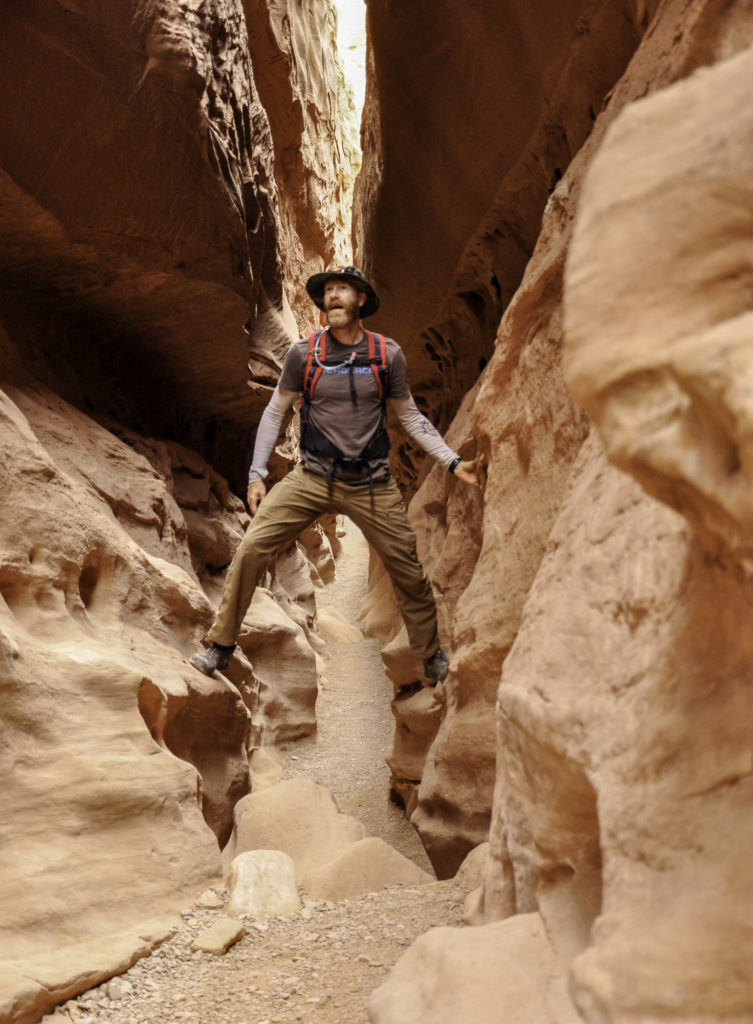 All I could think of was how much I love that red rock desert.
At a meal stop in Salina, Utah, Michael said he felt the same way. That made me so happy, even though I wasn't sure what to do with that information. We were in the middle of moving to California! And besides, I've often said that I don't know how I'd survive the summers in Moab, where the temperatures hit triple digits for three straight months.
I guess the takeaway is that someday we will get back to southern Utah.
We arrived in Las Vegas around 4pm, right about the time rush-hour traffic was heating up. I'd been to Vegas twice before but never by car, so it was kinda cool to see other parts of the city. We also have a friend in Vegas – Jon worked for Michael years ago, back when we lived in Denver. He told us to park downtown (it was less crowded than the strip, he said) and he'd meet up with us.
Jon walked us down Fremont Street to a place called the Smashed Pig. Now, the last time I walked around this area, back in the early 2000s, I felt safe enough, but someone did offer to sell me crack. (I'm still impressed with my response, which was a smile and "nah, man, I'm good.")
Anyway. This time nobody offered me drugs. But a lot of people offered to have a picture taken with me.
No, I'm not famous. These were people in costumes, although I use that term loosely. Mostly women wearing bikini bottoms and pasties. There were some Chippendale's dancers out too (they wore jeans and no shirts, which I found interesting. I mean, doesn't that sound like a bit of a double standard?). Jon said they work for tips.
This is what people do for money here?
Then I remembered – ah, yes. Vegas has no soul. And if you can get over that part, then Vegas is a lot of fun.
Now, not all the costumed people were out there showing skin. I saw a guy dressed as Alan from The Hangover, complete with satchel ("Indiana Jones carried one!") and baby. I found the whole kit online.
There was also a zipline running the length of the covered section of Fremont Street, and that looked awesome. It was also $40/person and the next opening was the next day, so we watched the zipliners somewhat enviously as we walked along.
Between the people, the lights, and the loud music…Talk about sensory overload. I was ready to go back to the nearest forest or canyon.
Eventually we made it to the Smashed Pig. This place would fit right in on the Pearl Street Mall in Boulder. Their menu was fun and creative and the food delicious.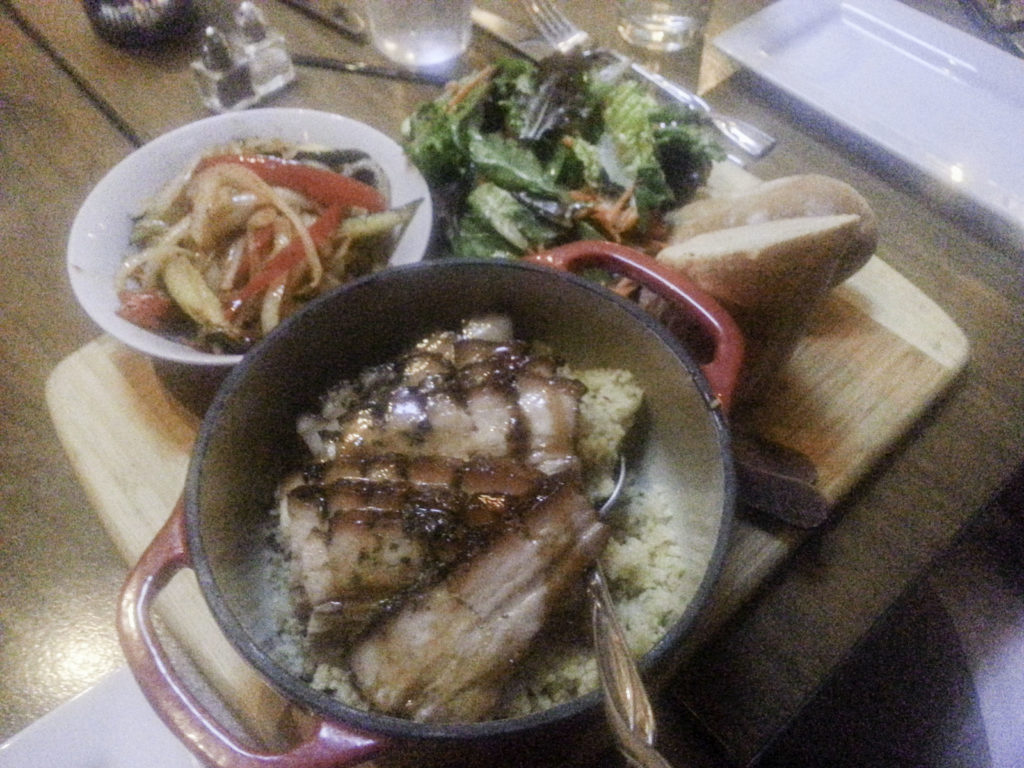 This is the Smashed Pig's "Butcher Block Special," which was not served on a butcher block but was still wonderful. Basalmic glazed pork belly over cous cous, with sauteed vegetables, salad, and crusty bread.
This was a fun meal to share. Also, it was incredibly tasty.
It was getting dark when we said goodbye to Jon and resumed our drive, but we were okay with that. When you're towing a 12 foot trailer your off-road options are limited. We needed something right off the highway so we chose a spot called the Rasor OHV area, west of Baker, California. For being within sight of Interstate 15 it was actually pretty quiet.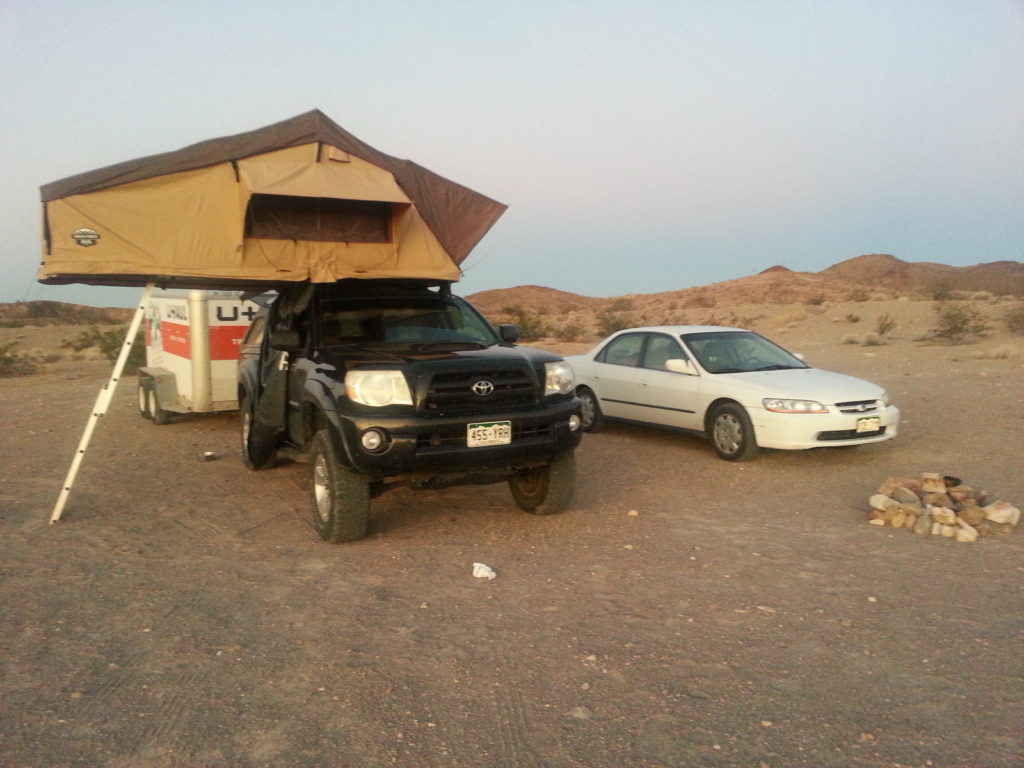 I watched the sun come up the next morning and then made coffee. We packed up and were on the road by 9am. We didn't make a fire or anything, but I still managed to drive the Honda right through that fire ring on our way out. Whoopsie.
It took one more long day on the road to reach San Luis Obispo. But we made it.
Now it's time to start the next chapter. But there are more Taco Negro adventures to come, I'm sure of it – lots of places in California to explore this winter. I hope you'll all stay tuned!