Yellowstone might just be too big for a single post. We ended up spending a total of five days in and around this amazing National Park. We drove up through the south entrance on the 15th, arriving around 5pm or so, and our first stop was the West Thumb area. I was excited to show Michael his first thermal pool.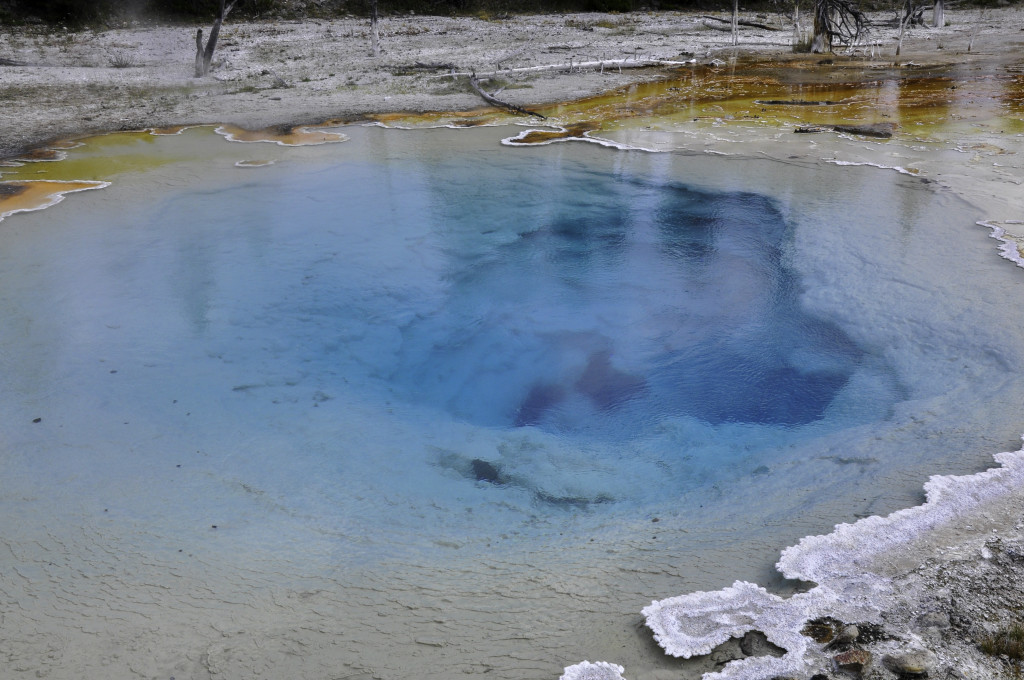 He was kind of blown away. I am too, looking at this picture again. It's just so deep. I love all those shades of blue.
We wanted to see Old Faithful on that first day, but we arrived at 7 and the next eruption was predicted for 8:10pm. So we headed out towards the west entrance. And promptly got stuck in a traffic jam. I hoped it was for something cool, like a bear.
It was elk. Doe elk. The things we'd try to avoid back in Colorado, so that, you know, they won't total your car. But there are people in the world who haven't seen an elk before.
They should still have the decency to pull off the road… instead of causing a traffic jam because of a stupid ELK. Just sayin'.
Anyway – we found our campsite with (literally) the last light of day, along a Forest Service road called Whit's Lake Road.
The next day we breezed through the west entrance and headed south at Madison Junction. Our first stop: the swimming hole on Firehole Canyon Drive. Yep, we went swimming in Yellowstone National Park.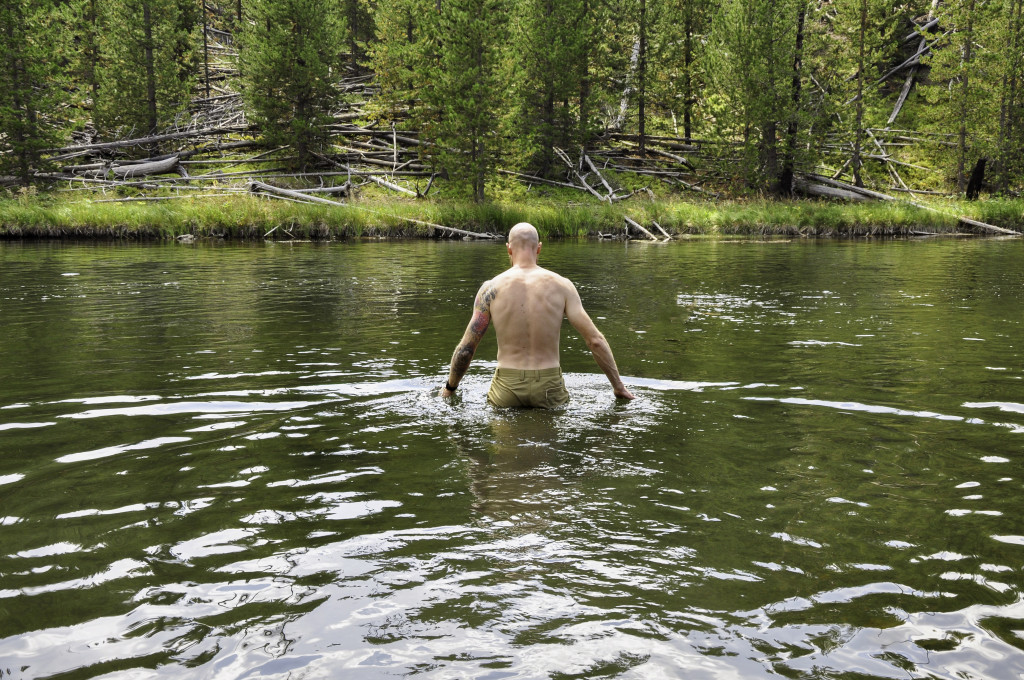 The beauty of traveling in a tiny tiny house on wheels is that I have my entire wardrobe handy, in a dufflebag that lives on top of the truck. So after getting a few pictures of Michael swimming, I changed clothes and joined him. It was nice to clean off after a week without a shower.
After reluctantly leaving the Firehole River, we continued on. Both the Midway Geyser Basin and Biscuit Basin parking lots were full, so we went directly to the Old Faithful complex. I call it that because in addition to the geyser, there are two hotels and several stores. And lots of parking. We found a spot in the shade and made lunch, first, in order to watch the eruption on a fully belly.
If you've been to Yellowstone recently, you'll recognize this image: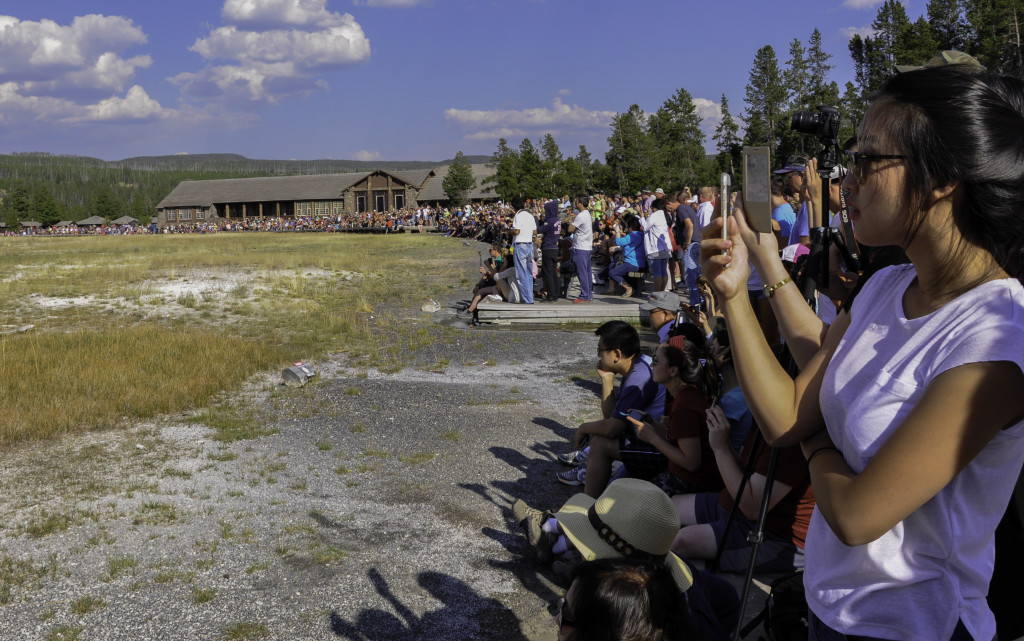 It was fun to listen to the crowd as Old Faithful erupted, though.
By the time we headed back north, most of the parking lots were emptying out. So we (finally) got to see the Grand Prismatic Spring at Midway Geyser Basin.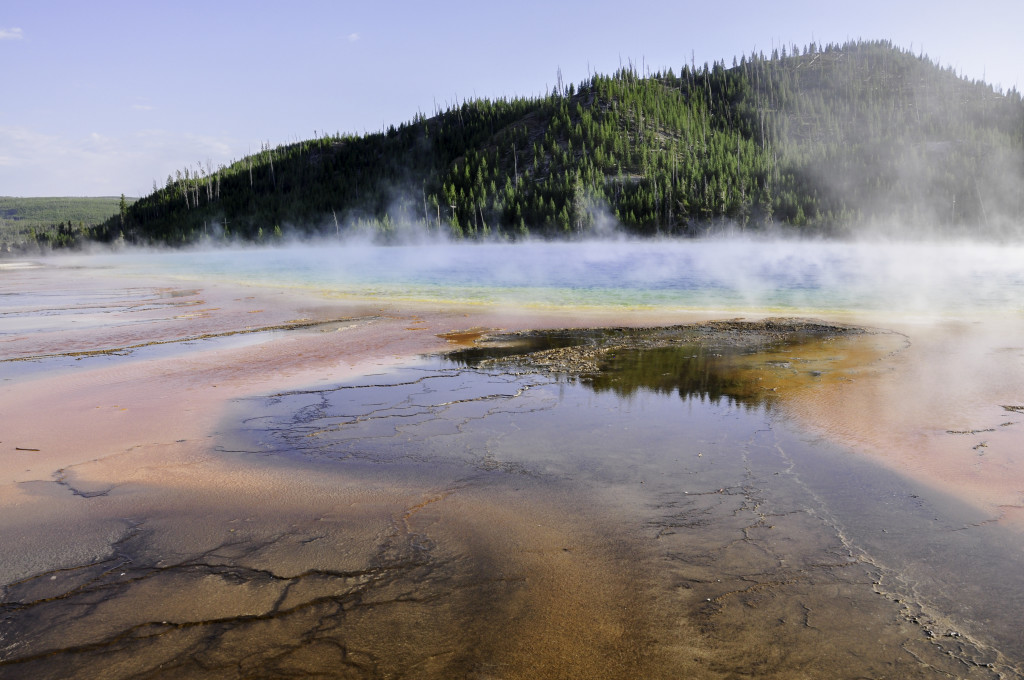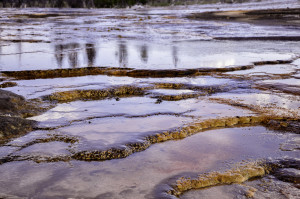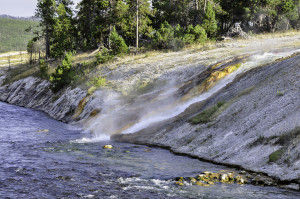 As the water drains from the pool, is passes through a series of ledges like this one, before ending up in the Firehole River.
Grand Prismatic is the largest hot spring in the Park, and it dumps more than 4,000 gallons of boiling water per minute into the Firehole River. This image is just one of the drainages.
That explains why the water was not freezing cold downriver, where we swam.
It was dusk when we headed out of the Park, once again through the west entrance. And got hit with another traffic jam.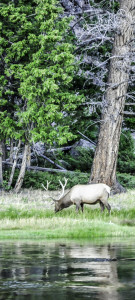 At least this time it was a bull elk.
Yellowstone adventures continue in the next post…