You might not think that January would be a good time to go backpacking in Northwest Arkansas.
I'm happy to tell you, you would be wrong. Of course, it helped that we picked the perfect weekend to go. Or maybe it was such great company. Six adults, one nine-year-old, and seven dogs went camping at Hurricane Creek, Arkansas, January 28-29.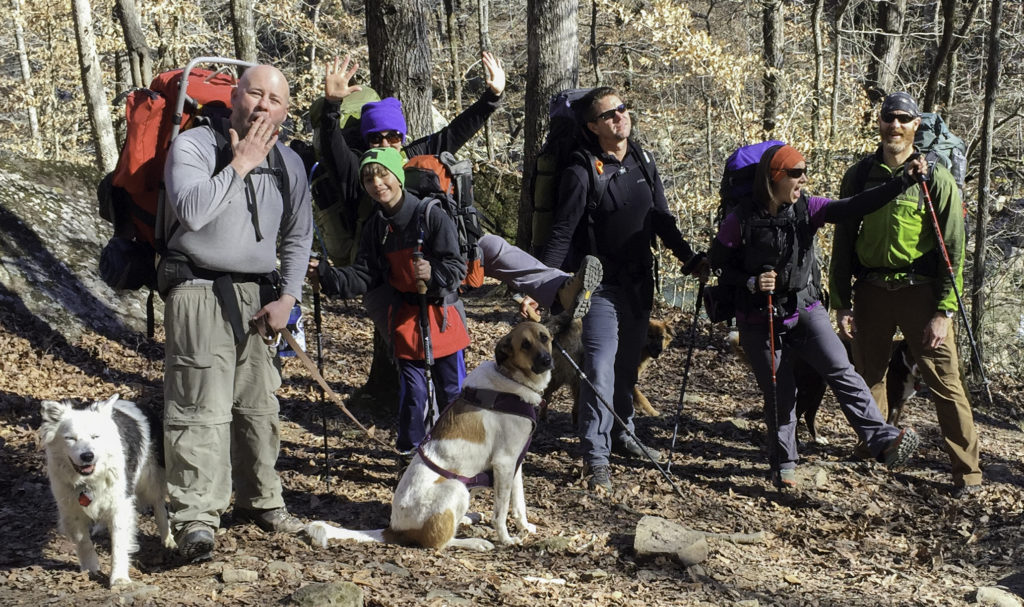 Barton and Andrea spearheaded this trip, and also lent Michael and I the bulk of our gear. Thanks, Barton and Andrea!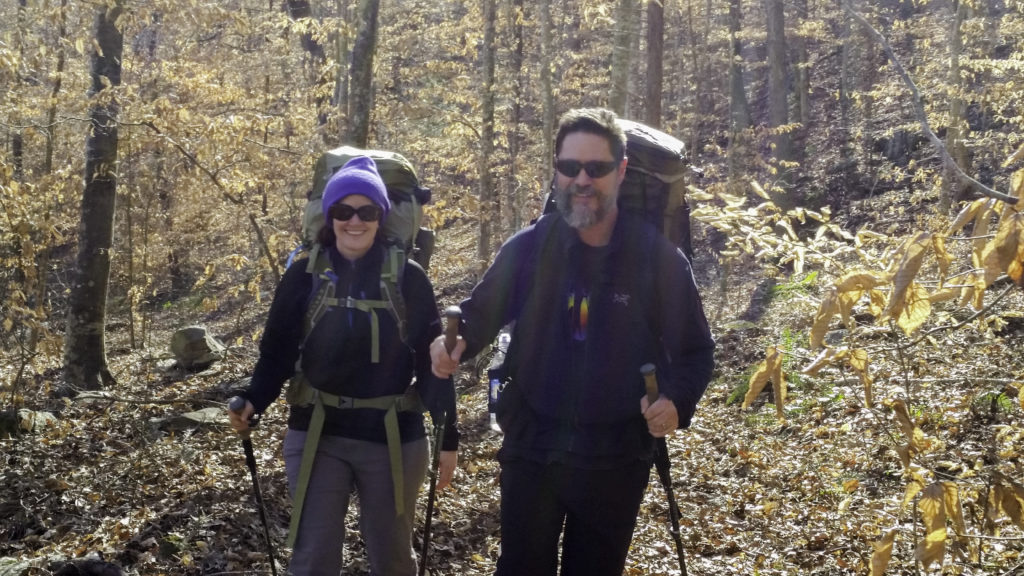 Of course, I think the trip was also an excuse for Barton and Andrea to bring their son, Oliver, out on his longest backpacking trip yet. He was a real trooper!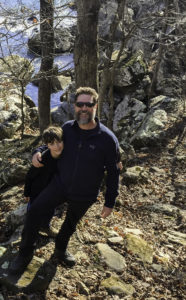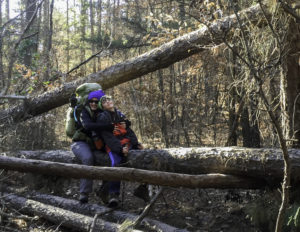 About 1/4 mile into this hike we had our only real obstacle: a water crossing. This was not a surprise, but we were all hoping the water would be lower and that we wouldn't have to get wet.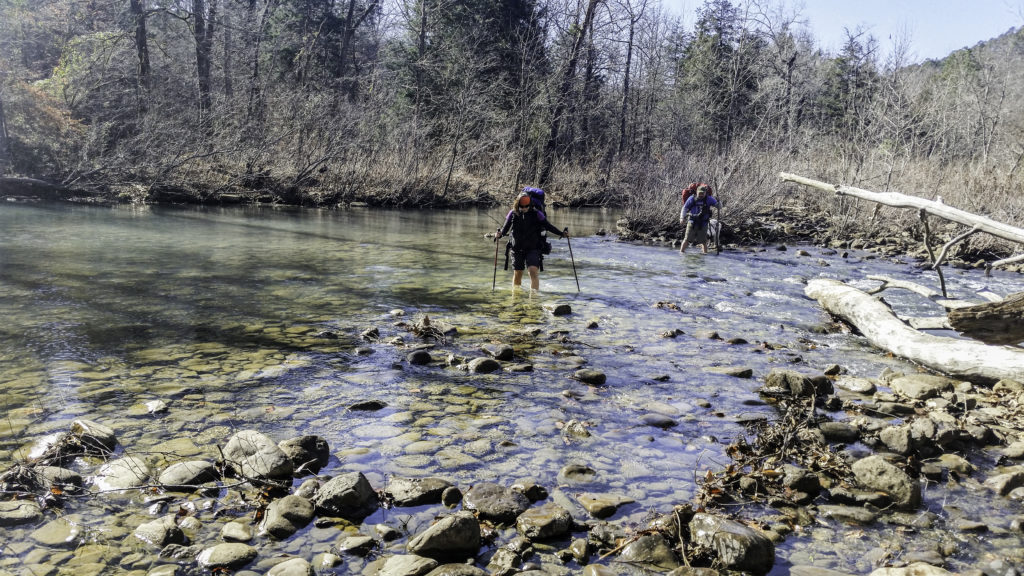 No such luck. We all changed shoes (I wore my Chacos) for the crossing. Barton went first, and because he didn't know exactly how deep the water would be, and because he didn't want wet pants…. Barton crossed Hurricane Creek in his underwear.
Yep. And of course there are pictures (taken by Michael, which makes me feel the need to point out that Barton and Michael have been friends for over 20 years). But the internet is forever so I have opted not to post any of those pictures. Let's just say that Barton has some mighty white legs, though.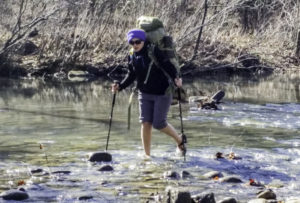 To get your mind off that image, here's Andrea.
During my crossing I kept waiting for the cold water to make my feet numb, but no such luck. Crossing Hurricane Creek hurt like hell.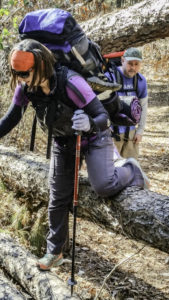 After that, the hike was pretty and pretty easy. Only a couple of tree limbs to navigate.
We even walked past this awesome natural bridge.
Before I knew it we were at our campsite. Right on Hurricane Creek, with views like this: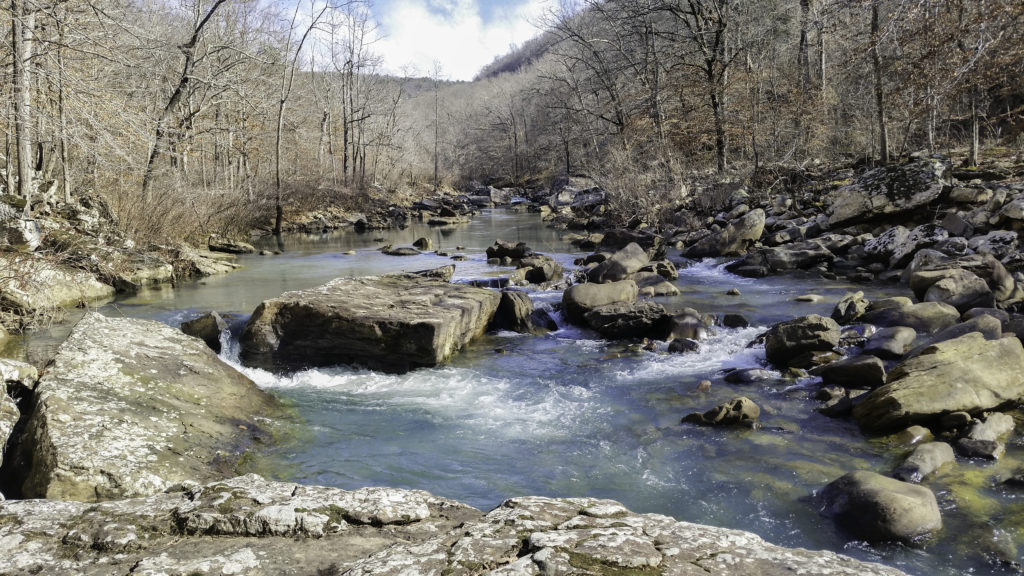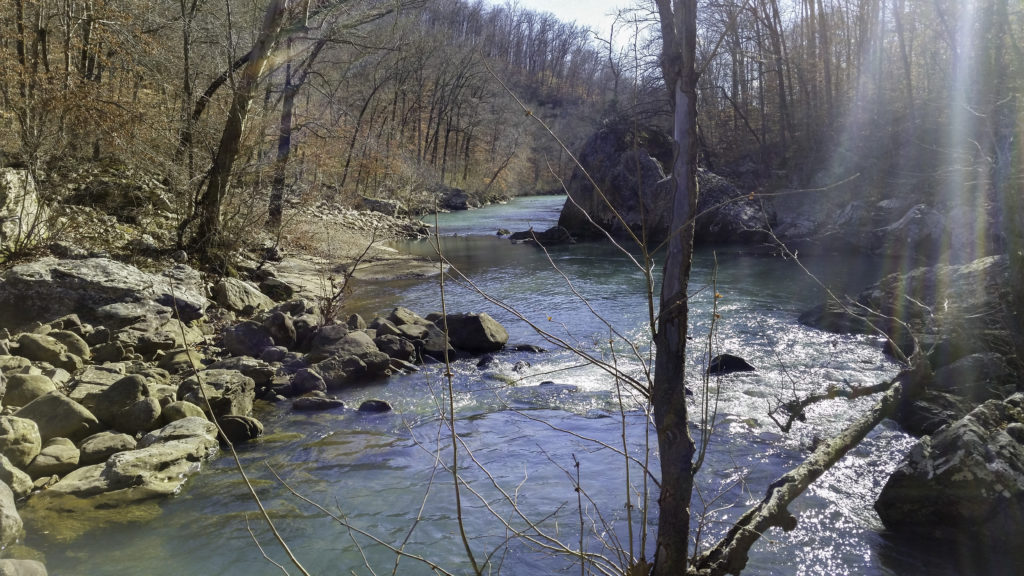 Time to set up camp!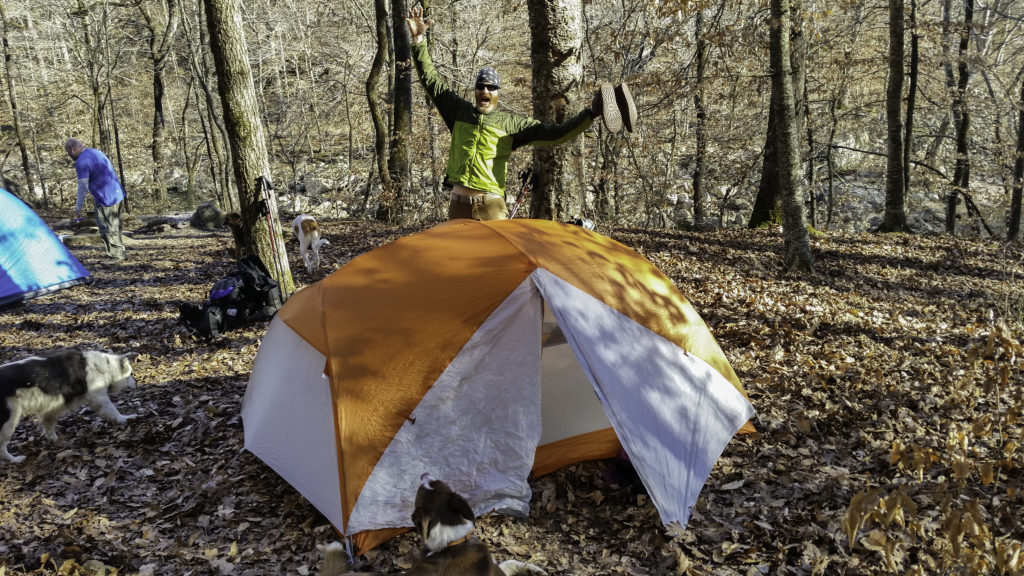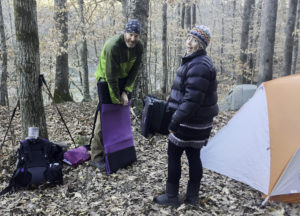 Yes, I am wearing a skirt. It's by Icelandic Design and it did a great job of keeping my butt warm, since I wore it over my wool tights. Plus it looked cute, and that's what counts when you're out in the woods camping, right?!?
I was also pretty excited to show off our awesome Revel Gear lights. I charged them up the day before and hung them next to our tent.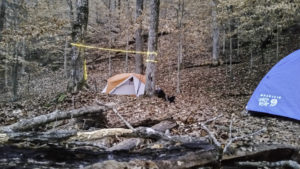 Okay, so it's not the prettiest setup, but everyone in the group was totally impressed with our solar lights.
We also had a big, fat bonfire.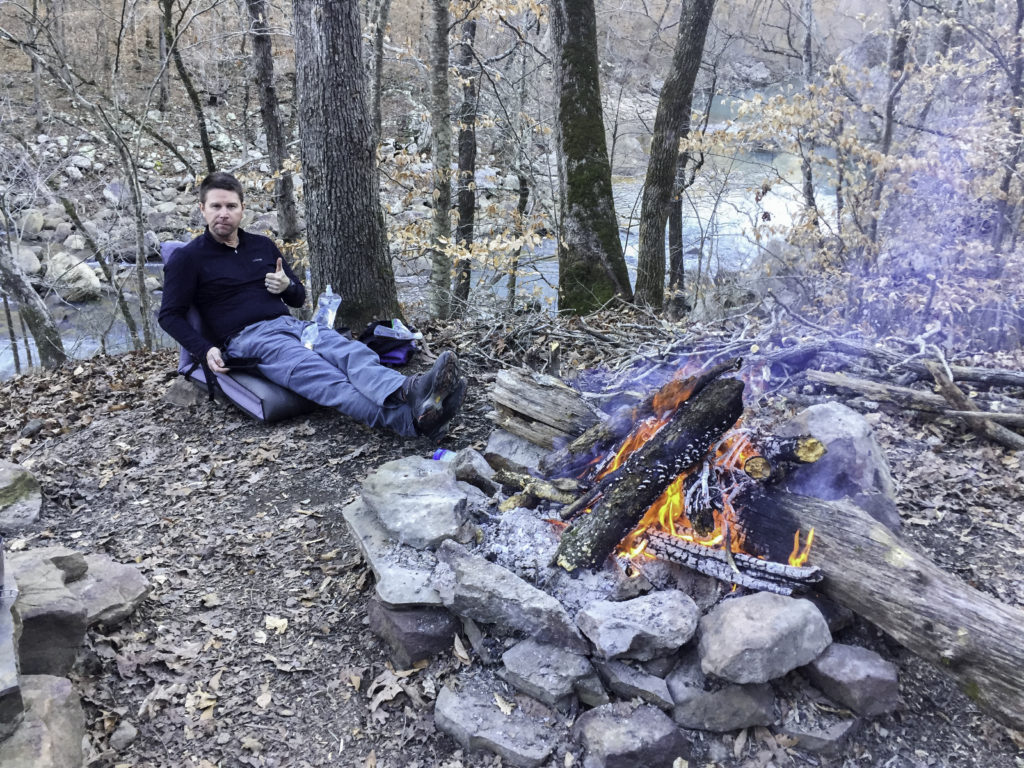 This is Sean, who did a fantastic job of keeping that fire stoked. Yay, Sean!
I have to admit that the only thing I was worried about for this trip was Elvis. He's a little hard of hearing these days, and he's not as strong as he used to be. Would he be able to keep up? Would he wander off?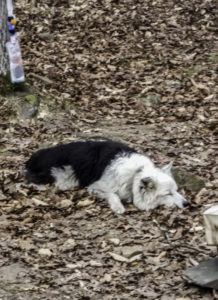 My fears were pretty much overblown. Elvis kept with the pack for the whole hike in, and even played with some of the other dogs. Once we got to camp, though, Elvis crashed right the hell out.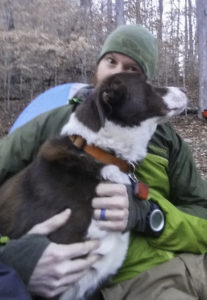 No worries about Bailey, either. He loved playing with all the other dogs, and still managed to maintain his status as the Snuggle King.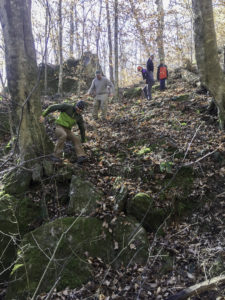 The next day, we took off on another adventure to a nearby drainage. This one proved to be too much for old Elvis, though. I mean, this was the start of the hike:
Michael tied Elvis up to a tree near our packs. He told Elvis to guard the campsite and headed out, but then ducked behind a little rise where he could still see the dog. Elvis was asleep in about five minutes.
Once we got going I was pretty glad Elvis had stayed behind.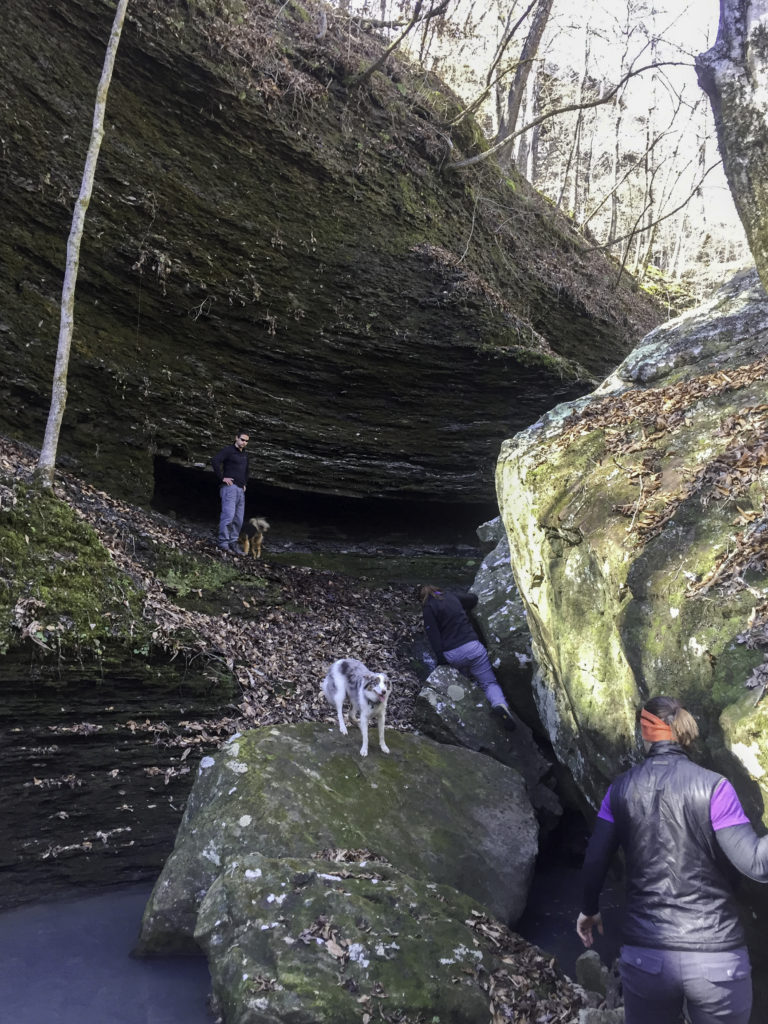 Andrea showed off her balance skills: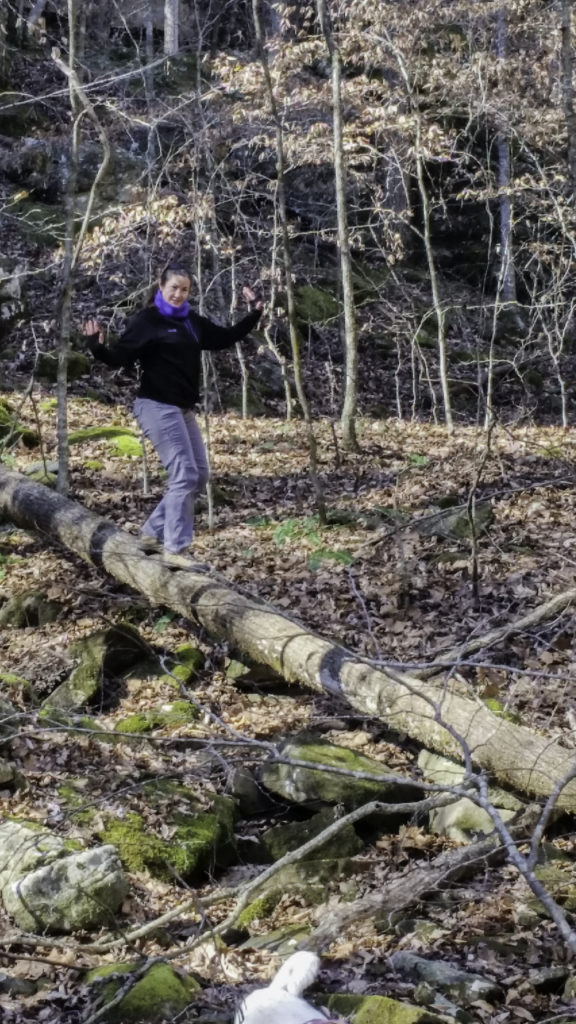 Eventually we reached the end, this amazing waterfall.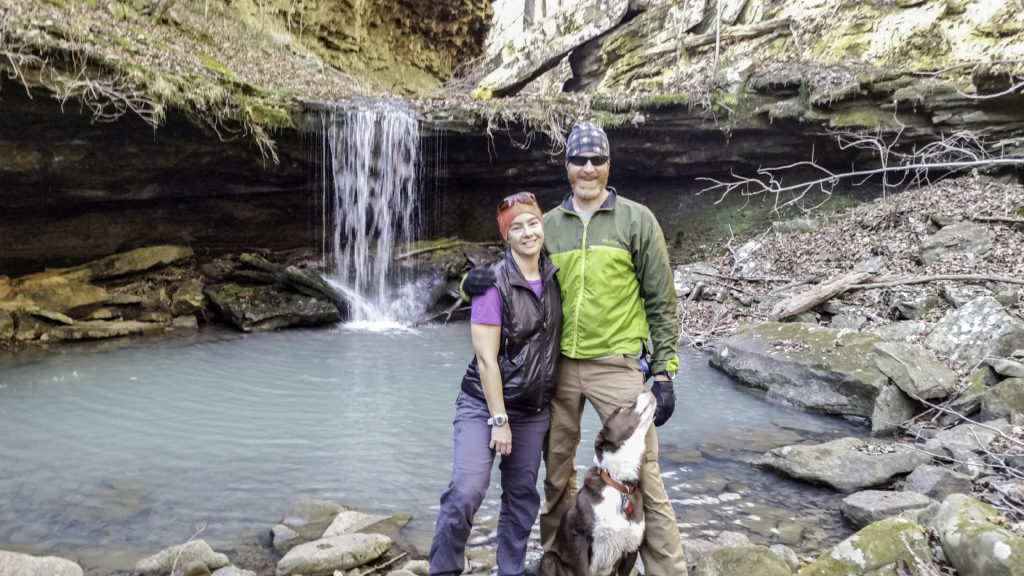 We hiked out on Sunday afternoon. Crossing Hurricane Creek sucked just as much the second time, let me tell you. Back at the trailhead we celebrated with snacks and then headed home.
What a great trip! I'm going to miss Northwest Arkansas.