Tuesday afternoon's traffic jam made Chicago's rush hour look tame. We did not want to replicate that experience, so for our return on Wednesday we went with a very simple plan: 1) Get there early. 2) Park in the shade. 3) Walk everywhere.
Now, I understand that "early" is a relative term, but we were packed up and ready to go by 8am and that made me happy. Since we were able to drive right past things like Tunnel View Point and Bridalveil falls, and since the construction detours wouldn't even let us near Half-Dome Village, we got into Yosemite Village pretty quickly.
We ended up in a spot that was equidistant between Yosemite Falls and Yosemite Village. That parking strip was so wide open, I pulled in and then backed up until the truck was in the shade.
Success!
On to step 3: Walk everywhere. And walk we did. In fact, my only regret with step 3 was leaving Bailey in the truck. I had no idea Yosemite was so dog friendly. We first walked over to lower Yosemite falls, which turned out to be a paved path that allowed dogs.
I didn't get any pictures of the lower falls. Sorry. The mists coated my lens immediately, just like at Bridalveil Falls. I had to shift my focus.
I had to pantomime what I wanted Michael to do, since the sound of the falls was deafening and he couldn't understand what I was trying to tell him.
After Yosemite Falls we moved on towards Camp 4. If you're not familiar with Yosemite's climbing history, the name might not mean much. But Camp 4 is considered by many to be the birthplace of modern rock climbing. People like Royal Robbins and Yvon Chouinard stayed in Camp 4 while putting up first ascents in the valley. (Apparently Chouinard also made and sold climbing gear in Camp 4's parking lot. Pretty fitting for the guy who went on to found Patagonia Outdoor Clothing & Gear.)
Climbers used to pretty much live in Camp 4 – which was a point of contention with the Park Service. These days Camp 4 is walk-in only (no reservations allowed), and between May 1st and September 15th there's a 14-day limit.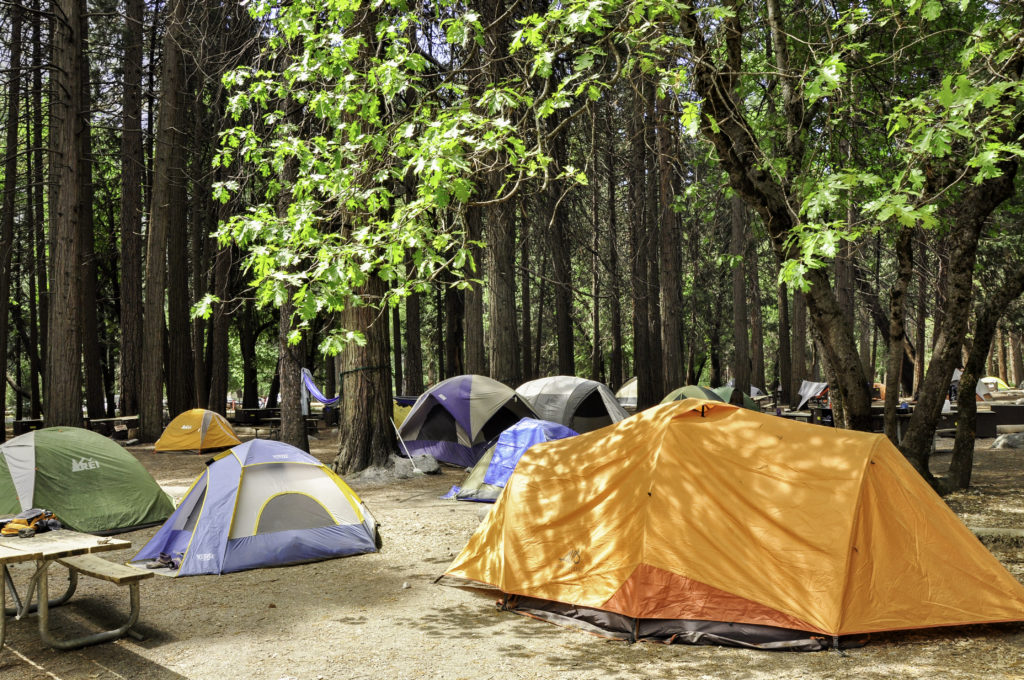 While we had no chance of staying at Camp 4 (it's a tent only site, no sleeping in your vehicle allowed), it's still free to walk through. And Michael really wanted to walk through Camp 4. The reason?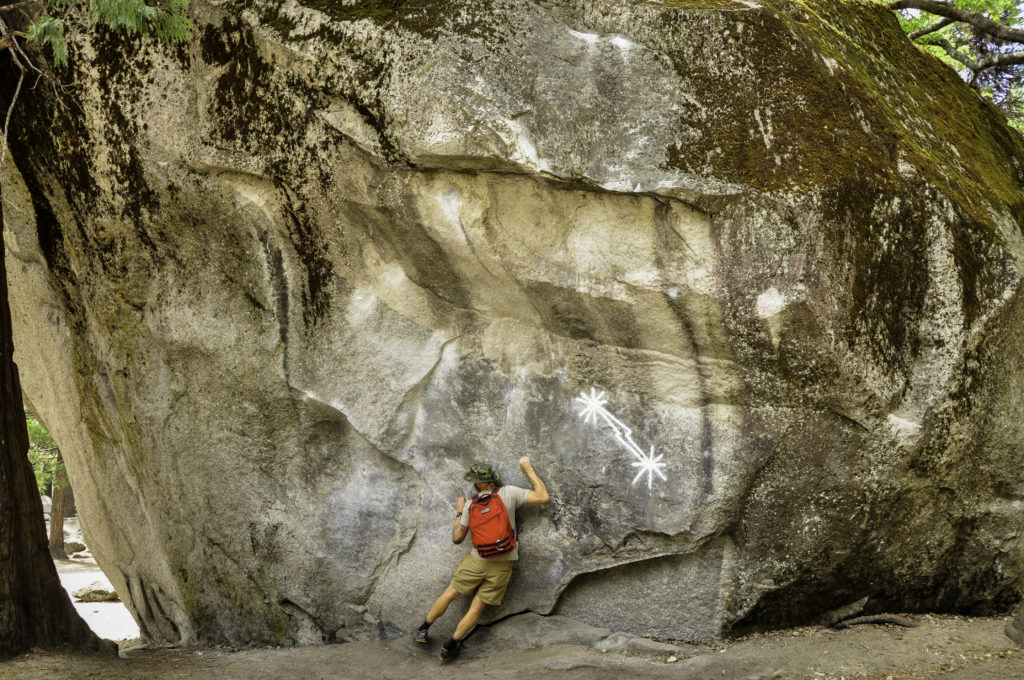 This is the Columbia Boulder. Michael is standing in front of Columbia's most famous bouldering problem, Midnight Lightning, first ascended by Ron Kauk in 1978. Here's YouTube video of Lyn Hill making this V8-rated problem look easy. She became the first woman to send Midnight Lightning in 1998.
After taking in Camp 4 we headed back towards the truck, partly to give Bailey a break and mostly to make a little lunch for ourselves. The day was sunny and warm but our well-chosen spot remained in the shade all day.
Refueled, it was time to hike to Mirror Lake, which sits right below the one thing we'd barely seen in Yosemite: Half Dome.
The "trail" we hiked on was also dog friendly (which I found out when we reached Mirror Lake) and was an odd mix of pavement, dirt, and half-washed-away-pavement. There have been floods in the valley in the past. Honestly, this trail looked like it was all paved at some point, then was damaged by a flood, and then the Park Service just said, "ah, whatever," and opted not to re-pave it. It made for an interesting hike.
The views from Mirror Lake were pretty damn worth it.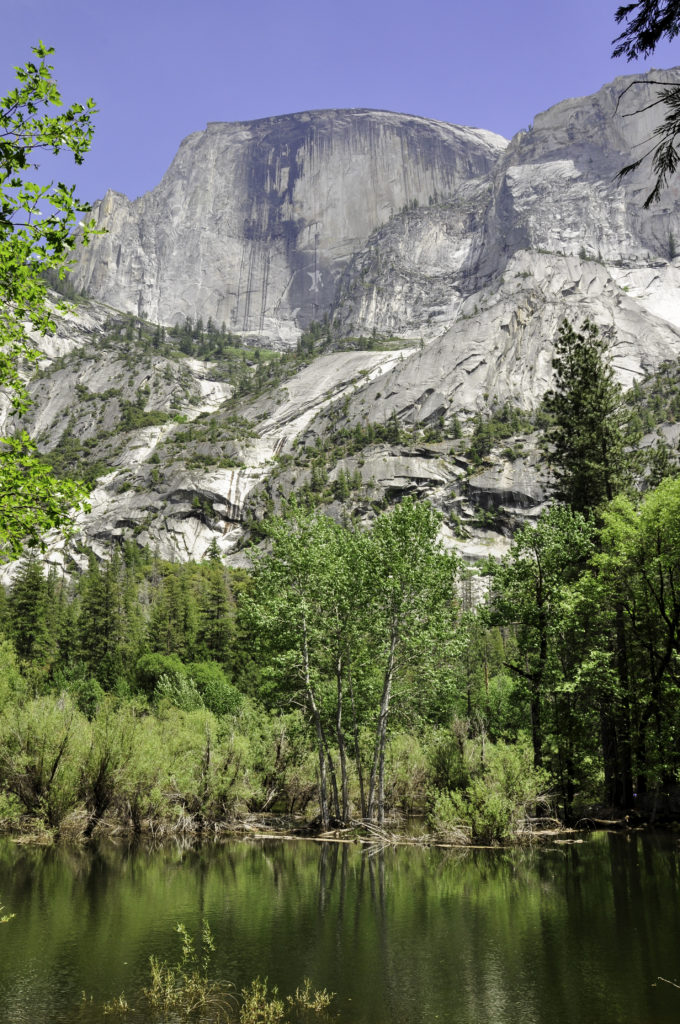 It's still pretty unbelievable to me that in 2012 a climber named Alex Honnold performed something called the Yosemite Triple Crown: he climbed Mount Watkins, the Nose route of El Capitan and the regular northwest face of Half Dome, all in 18 hours and 50 minutes.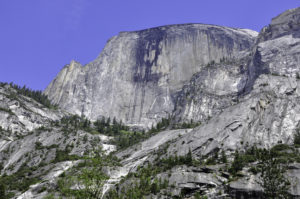 On a separate occasion this guy climbed Half Dome in 1 hour and 22 minutes. This is a 2,000 foot ascent. And in case you're wondering what that route looks like, here's a link.
We walked back to the truck along a bike path that parallels the Merced River. Fly fishing is pretty popular in Yosemite.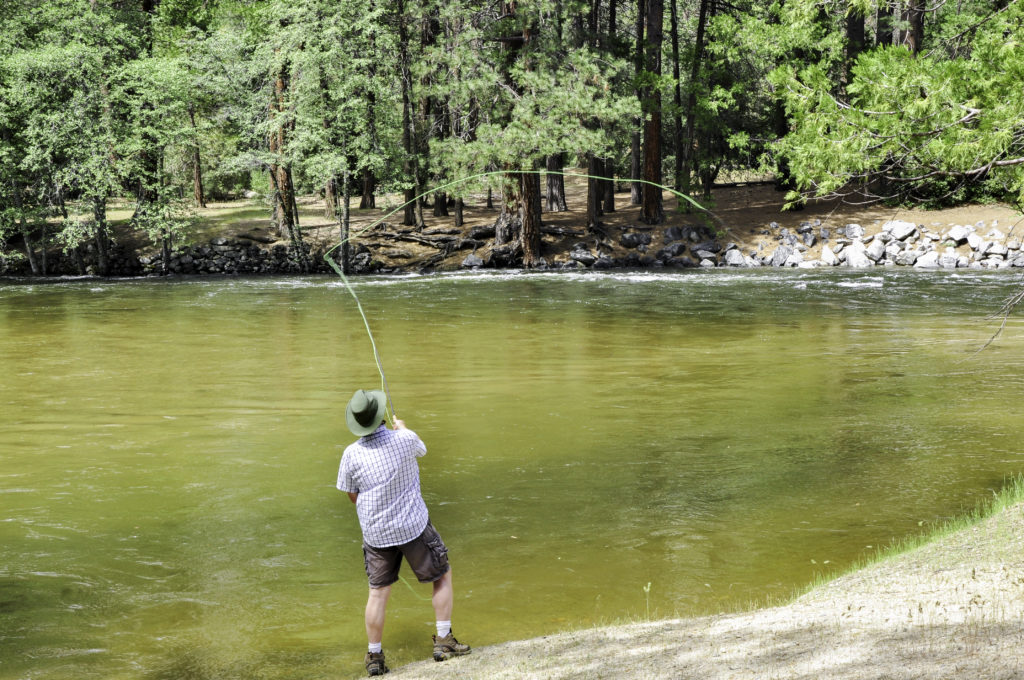 When we finally got back to the truck, we were both a little beat. I figure we walked 7 or 8 miles that day. Michael got out the hammock and we took turns enjoying it.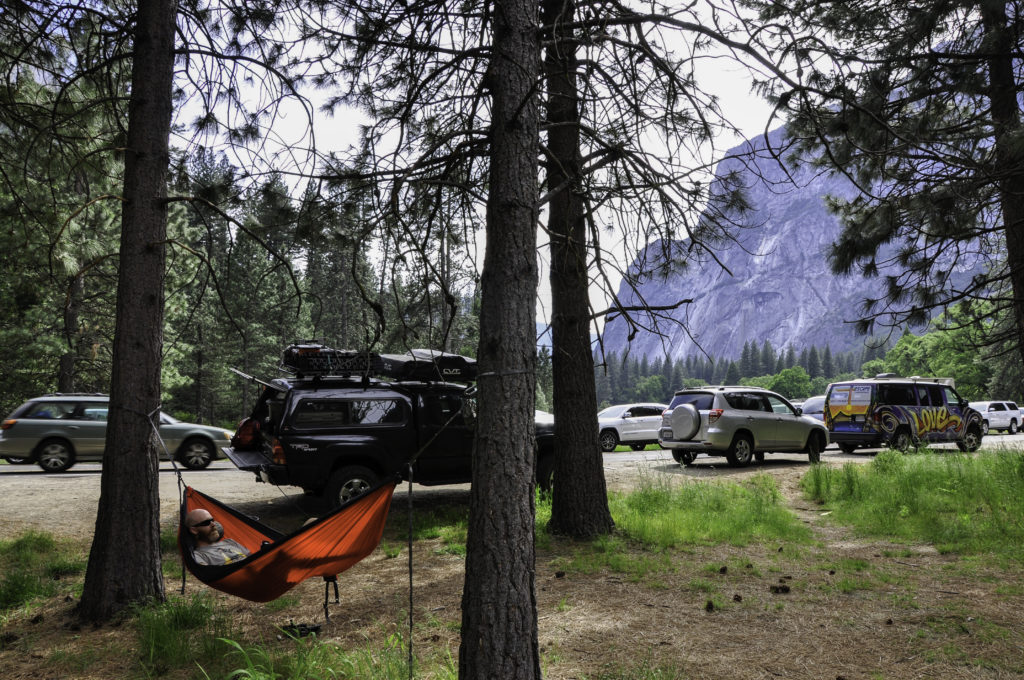 By the time we were ready to leave the Park and head back to our campsite, it was around 6pm and traffic had dropped off considerably. Nice job, team!
We planned on heading back to San Luis Obispo the next day. But when we got to a place with cell reception (the town of Oakhurst, to be exact) Thursday morning, we had a message from my sister in law, Ali. One of her kids was sick and she wasn't sure how contagious she was.
Well, spending another night in the woods certainly wasn't a problem for us. But it was now the Thursday before Memorial Day weekend. We didn't want to go back to Yosemite, which was sure to be more and more crowded. A quick search over lunch brought us to Nelder Grove Campground. It was only a half hour away. Score!
However, when we got to Nelder Grove, there was only one site left and it wasn't really a good fit for Taco Negro. Luckily we were in Sierra National Forest and a short drive led us to another perfectly good site. We even got to drive across the base of a waterfall along the way.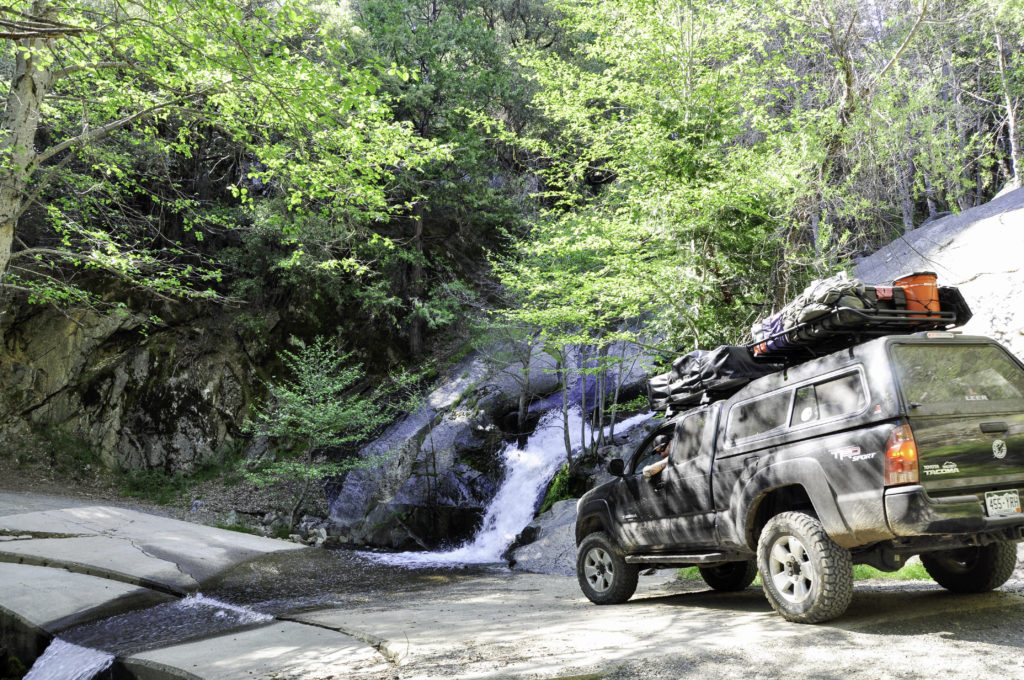 We decided to stay for two nights. Friday morning was so nice and warm, I was wearing shorts and putting on sunscreen while waiting for the water to boil for coffee. But by 10am the first clouds rolled in. By noon I was so cold I started a campfire. A good campfire will warm you up, of course, but the thing that really gets your blood moving is collecting firewood.
After a couple of hours we had all these beautiful coals in the fire. Michael decided that dinner would be a campfire dinner, and started digging out the CampMaid.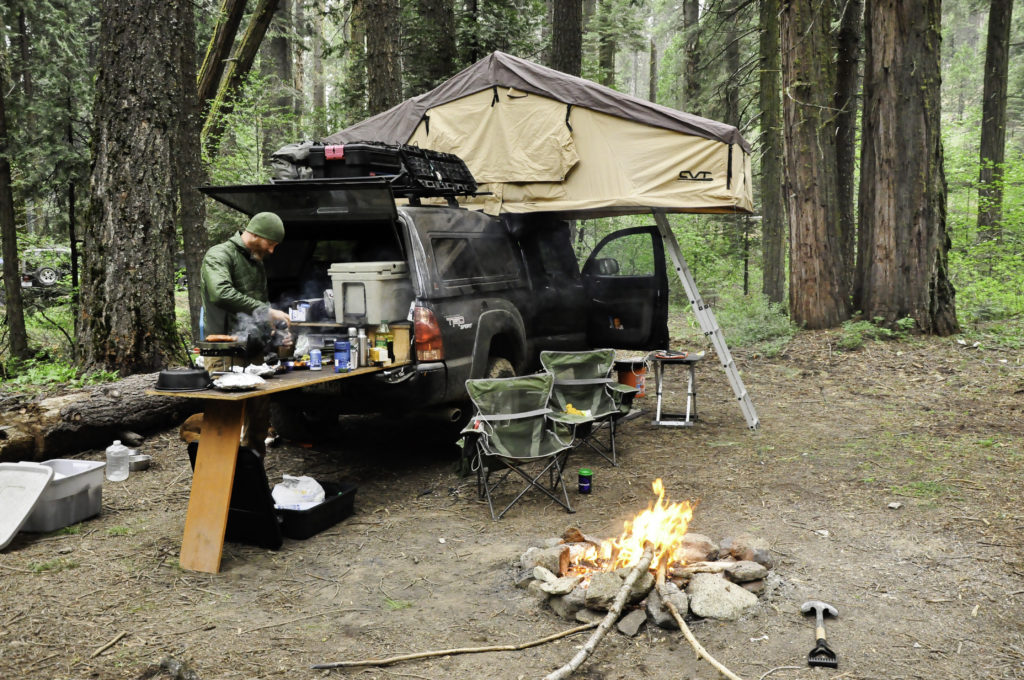 I've written about the CampMaid before (here, in Arizona and here, in Idaho), but the CampMaid Outdoor Grill is definitely one of the niftier gadgets we carry around. We have the 3-piece combo, which consists of a lid lifter (which doubles as a base for the grilling operation), a charcoal holder, and a grill.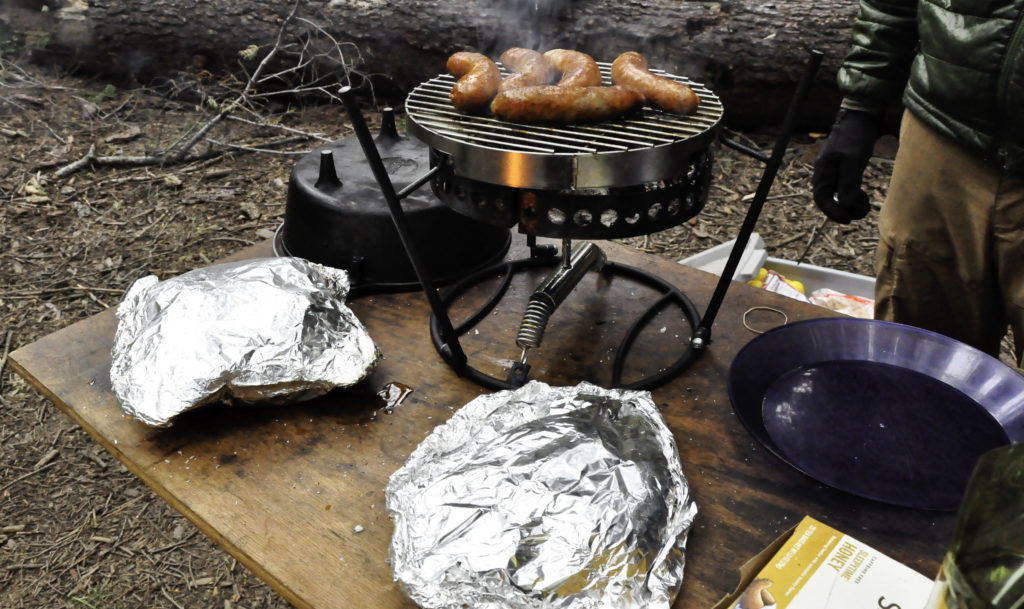 Before Michael grilled up those Italian sausages, he made one foil packet with sweet potatoes, and one packet with sweet peppers and asparagus. The packets went into the fire pit itself.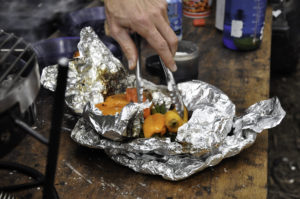 I don't know how Michael does it, but he timed the packets perfectly.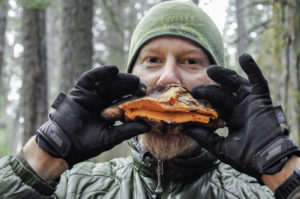 Then he decided to reminded me that it's always fun to play with your food.
And of course everything was delicious. Campfire dinner was a raging success.