We spent just one night in Truckee, California, before moving on. It seemed like a cool town and all, with lots of trails nearby, but we had a valley to cross. During a hot summer.
My first idea was to cross the valley at night, to avoid the heat. We simply could not drive with Bailey in the back of the truck on a 100o day. Michael agreed. Then, after a few days of mulling that over, I changed my mind and told him I thought it was a terrible idea.
He agreed again. But what was the best solution? In the end, we took all the stuff that normally rides in the cab with us and put it in the back. We took Bailey and his blanket and put them both up in the cab with us.
Bailey seemed a bit confused when we first tried to load him, and I realized he'd never ridden in the cab of the truck before. Lucky dog, I told him. But don't get used to it.
The mid-point of the drive was a town called Yuba City. Main street there has all the big box stores and we had a BOGO Chipoltle coupon. When we stopped there for lunch the temperature outside was 101o. Even in the shade that was damn hot. We moved on as quickly as we could.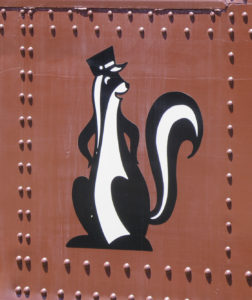 Our goal was Mendocino, California, where the high temperature that day was 71. That was about the only good news. The more research I did, the more I wished we didn't have to go there. Free camping seemed to be non-existent along the California coast. But we had packages waiting at the Mendocino Post Office. Also, I wanted to ride the Skunk Train.
Now, the Skunk Train was not exactly a bucket list item. In fact, I think I only found out about it a few weeks ago. But train rides are fun. For me, anyway. I remember taking the train to Agawa Canyon in Canada years ago, and I spent the entire time leaning out the open door in between cars. This was back in the old days, and I'm pretty sure I took three or four rolls of film.
Anyway.
As we headed west, we found a few not-free campsites in Jackson State Forest that were sort of cheap at $15/night. We used Google Maps to try and find Camp One, on the western edge of the State Forest.
Google Maps led us to a prison. No lie, the road ended at a correctional facility, complete with lots of barbed wire, CCTV cameras, and a guy walking through the yard in an orange jumpsuit.
Thanks a lot, Google Maps.
Now winging it, we continued west anyway. And right before we hit Fort Bragg, we saw a little wooden sign with yellow letters along the side of the highway: CAMP ONE.
We turned down the gravel road. It was still an hour before sunset but this road was already dark. The trees were thick and tall, towering over us and shutting out the light. We soldiered on.
Camp One was full.
Taking matters into our own hands, we drove back up the road – it was almost sunset now – and found a pullout that was pretty level. We didn't see any signs that said you couldn't camp there. So that's where we set up shop for the night.
Take that, Jackson State Forest!
Haha, I say that, but the next morning we got up early, packed up the tent, and drove into Fort Bragg before coffee or anything. No need to flaunt our status as squatters. The original intent was to find a park or something to make coffee and breakfast, but we found Main Street and a little breakfast place called Eggheads first. At least it was good, and their coffee excellent.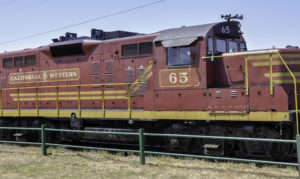 With full bellies we walked over to the train station (Fort Bragg is a pretty small town) and asked if there were still tickets for that day's train. We were in luck – all three of us got tickets for the 11AM Pudding Creek Express.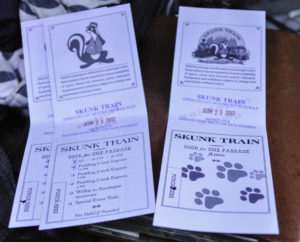 Bailey even got his own ticket.
Since it was only 9:45 we took Bailey over to Fort Bragg's dog park. It was nice – grassy, lots of water, lots of room for Bailey to run. We wanted him to be tired, in case he didn't like the train.
In this case, I worried for nothing.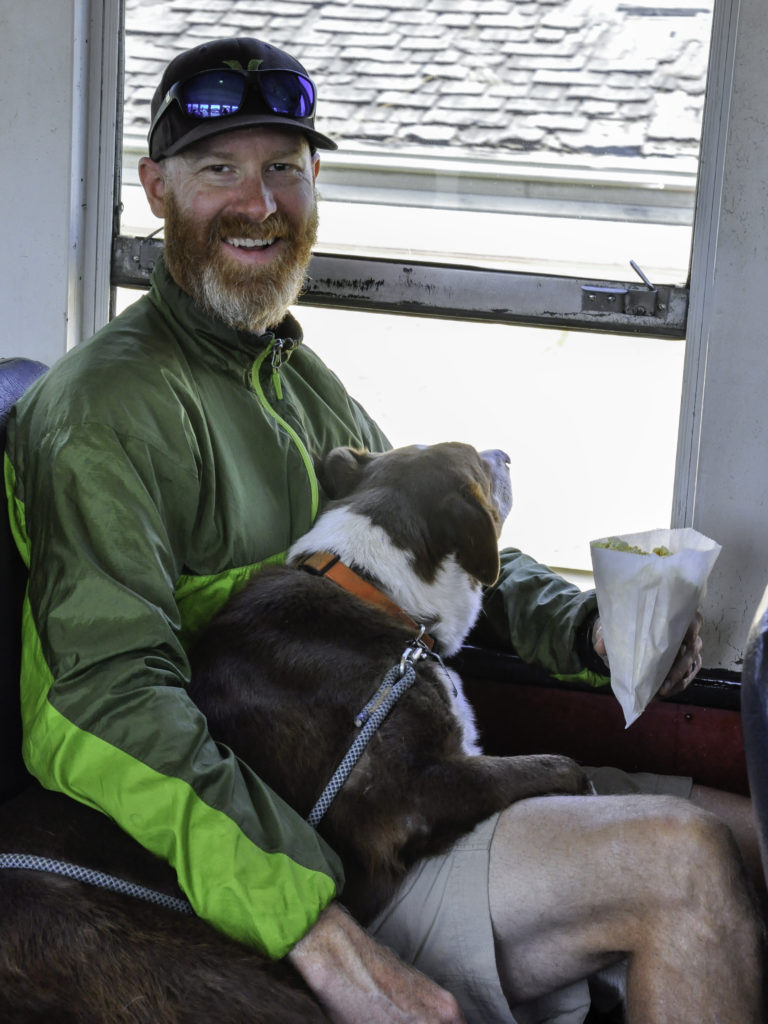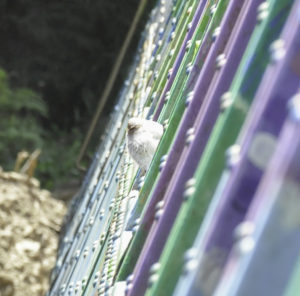 Bailey spent most of the trip just like this.
In fact, that nose showed up in a few of the pictures I took, once I enlarged them a little.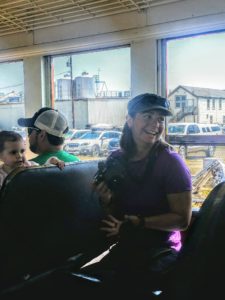 The train itself was super cool. All the windows opened and you were free to move around during the journey.
I was able to stand in the open doorway in between cars to take pictures. From a photography standpoint, it was a tough trip. It was going on noon on a bright sunny day. Harsh light. I did the best I could.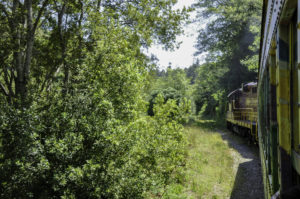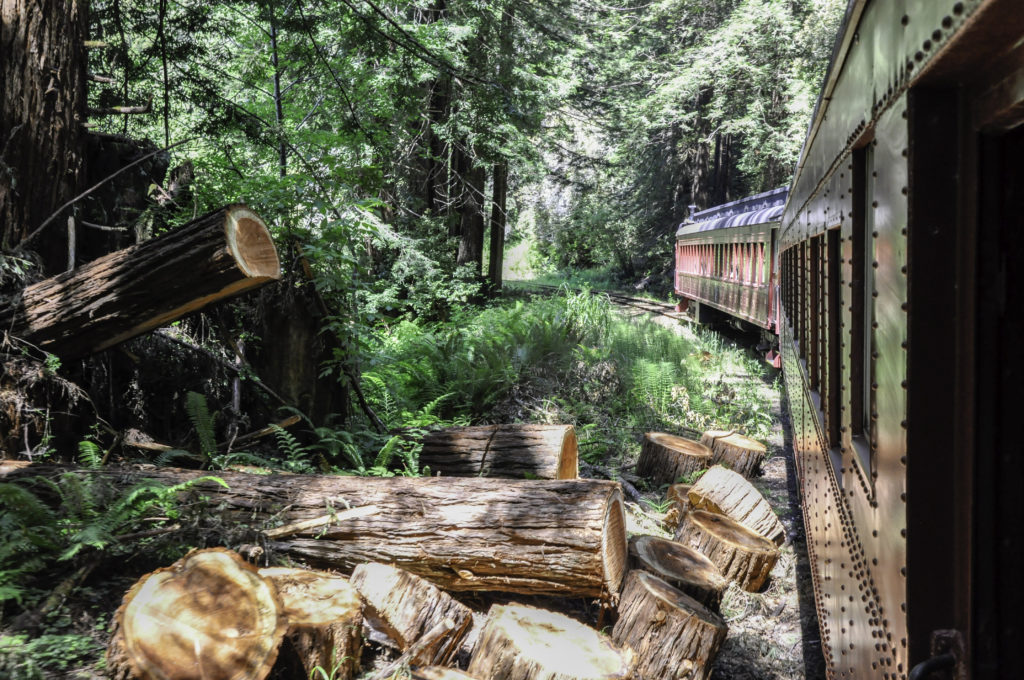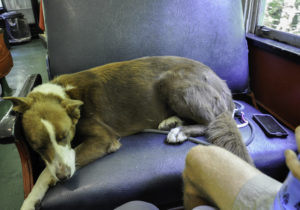 But even if most of the pictures were a bust, I still had a great time. So did Michael and Bailey. On the way back Bailey just took up his own bench.
After the train ride we headed over to Glass Beach. Up until the 1950's, Glass Beach was actually the town dump. The ocean carried off everything else, apparently, but the glass stuck around, getting sanded and rounded and turned into something quite beautiful. According to the pictures on Pinterest, anyway.
We left Bailey in the truck for this one, and he didn't seem to mind. As we were heading towards the ocean we saw another couple heading out. They had a black and white border collie mix with them, and that dog looked so much like Elvis that I actually started to cry. I miss that dog.
We moved on, trying to find all that cool glass. It turned out to be quite the hunt, and I never did find anything like what I'd seen on Pinterest.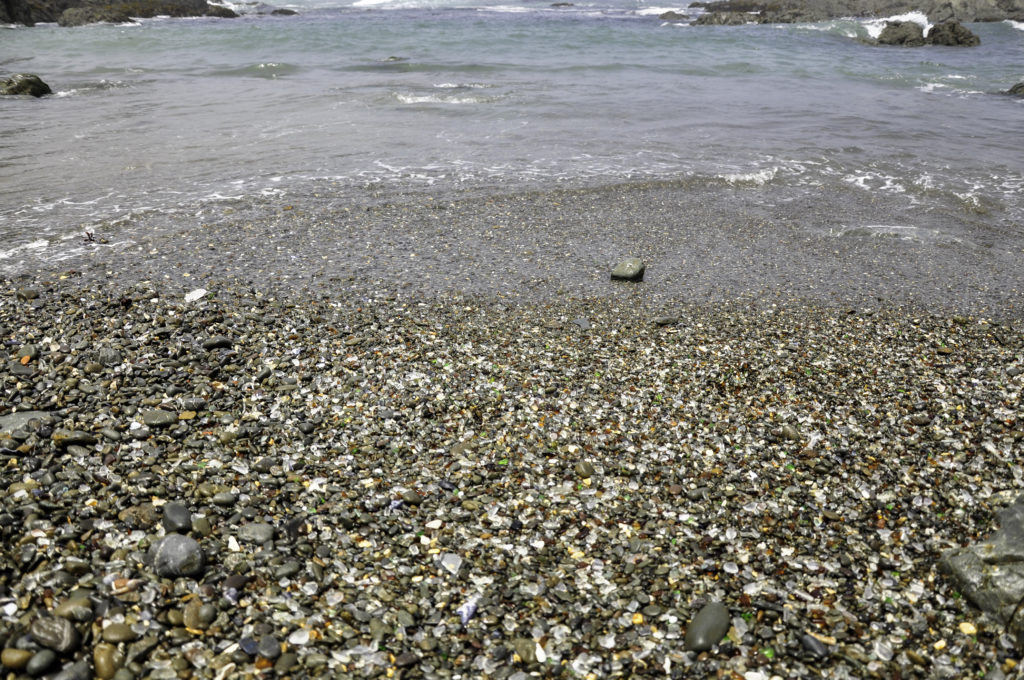 I guess people have been stealing pieces of glass off Glass Beach since the 1980s. There are now signs up asking for people to stop, which I think is kind of funny, when you consider that the glass was garbage once upon a time.
The rocky shoreline of Glass Beach was also worth a few dozen pictures.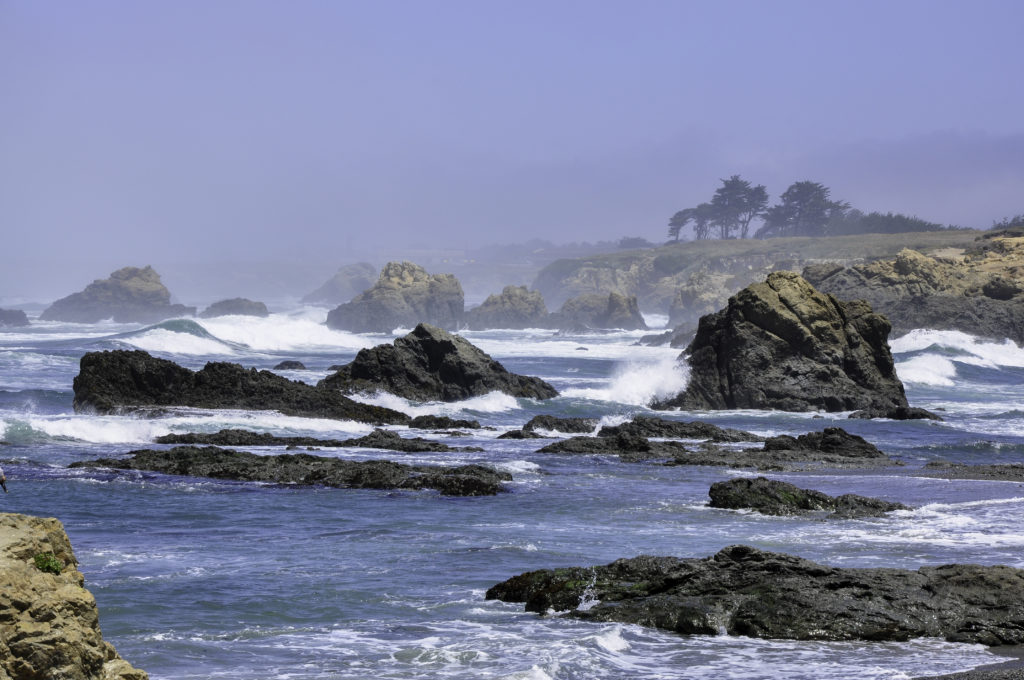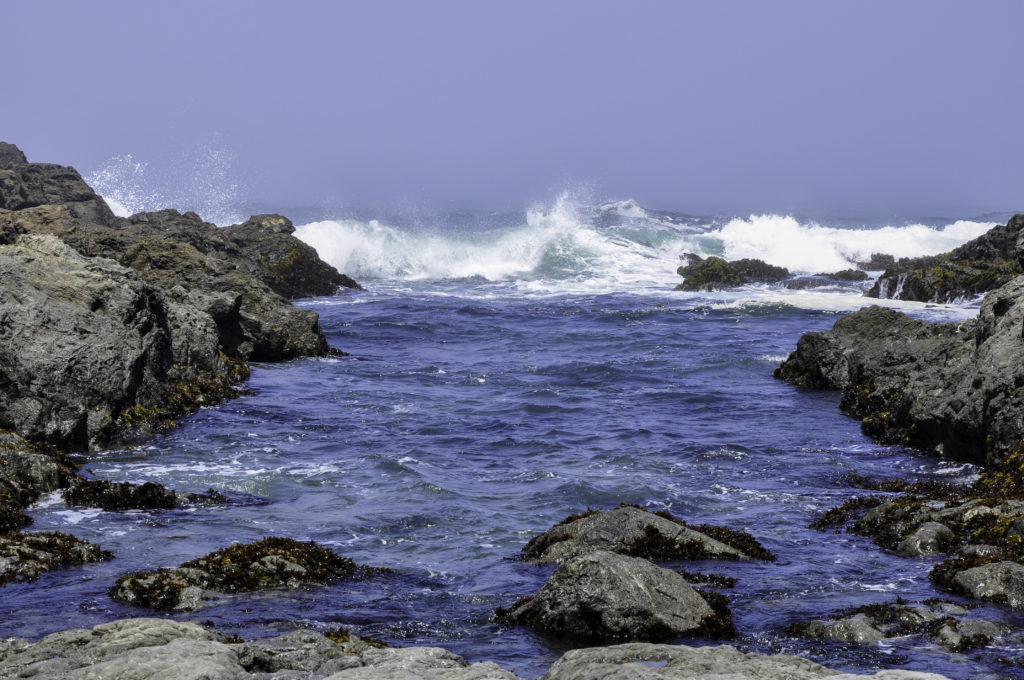 Believe it or not, by the time we finished a tailgate lunch at Glass Beach it was only 2pm. Plenty of time to get our packages from the Mendocino Post Office.
My friend Kody at Revel Gear recently gave an interview with SGB Media, and I encourage you to read about it here because Revel Gear is a pretty cool company. With our care package Kody really outdid herself! There are several strings of lights – white, multi-color, and changing – a new charger, a light-up dog collar, coozies, and cards with a coupon code (so we can hand them to people who ask about our cool lights). Going through that box was like Christmas.
Michael was no less excited for his package, from Savory Spice. You might recall that we left Colorado with a host of Savory Spice in our pantry (you can read that blog post here), but we used all them up a while back. I guess Dan (owner/managing partner of the Boulder store) saw our post for Cholaca Camp Chili, because he got in touch with Michael, asking if we could do something similar for him. Of course we could!
I think I was the most excited about the Vietnamese Sweet Lemon Curry, but the Peruvian Chile Lime Spice sounded pretty fantastic too. Stay tuned for more food posts!
All of that was going to have to wait for another day, though. See, after we got our packages we walked around Mendocino, because it turned out to be a mellow town full of art galleries and coffee shops and little alleyways full of flowers.
By the time we'd had our fill of Mendocino, our camping options were limited. Our next stop – gamble, really – was an area called King Range National Conservation Area that I knew nothing about, other than it existed. Managed by the BLM, campsites were $8/night, which seemed okay. But the NCA was about a 2.5 hour drive north, and that meant we'd be arriving right around dark. What if the campground was full? We didn't have a plan B. The King Range NCA is part of California's Lost Coast, and it looked pretty isolated.
So we went back to our squatter's site at Jackson State Forest, but with a plan for the next day: The Lost Coast.